Quantum and Woody #1 Review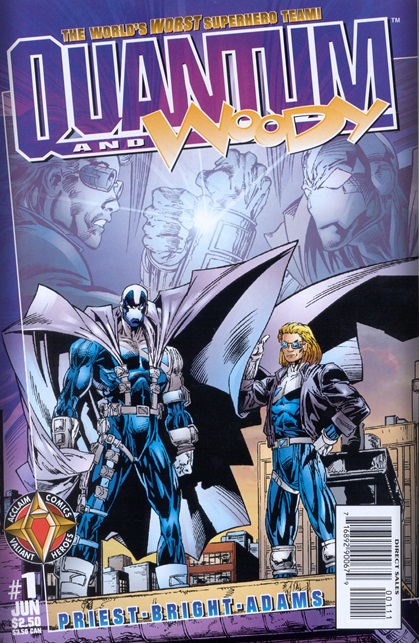 Summary
Eric (Quantum) and Woody are best friends who grew up together. One day Woody mysteriously leaves without saying goodbye. Fifteen years later both their fathers die in a helicopter accident and the meet at the graveside. Eric decides to investigate their fathers partner Warrant since they are all on the suspect list.
Eric also finds a pair of gauntlets which belonged to their fathers, Woody of course wants one for himself. Bickering between the two led them to be trapped together in a chamber which converts them to pure energy as they start to fight each other on the brink of death the gauntlets connect and they wake up outside the facility in superhero garb.
The cop investigating the case wakes them up and takes them to the station where they bring him up to speed on what's happening.
The Good
F****** Hilarious- Ok where do I start? I was in stitches for most of the book. Christopher Priest may have retired from the comic experience but man! This classic written by him is pure slapstick funny.
Origin- Right out the gate we get the origin tale and it's a pretty hilarious ordeal.
Characterization– Ok so Eric is the level headed, sensible member of the team while Woody is not really bat shit crazy but pretty darn close.
Art- Not the very best of its time but it's aged pretty well all things considered.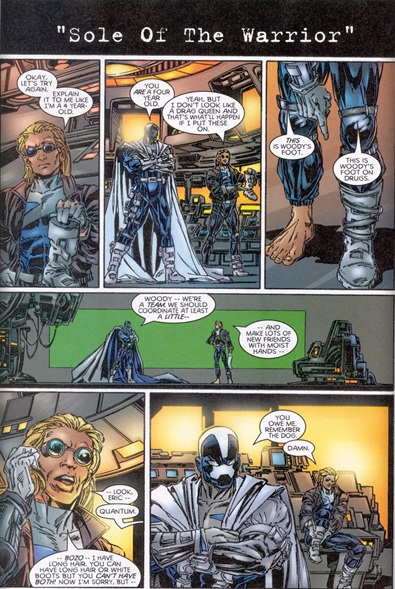 Racism- Christopher Priest deals with racism in a very tongue in cheek manner. Eric the black guy is the smart successful one while his blonde white counterpart is such an airhead beamed straight from space. Said airhead spouts the most bigotish, racist diatribe you can think of but he's honest to god doing it just to piss off Eric rather than actually meaning any of it. In fact when Eric brings up Woodys departure because he was a "Niger" he literally loses it because he can't believe Eric would even for a second think of him in this manner.
Friendship- Watching these two knock each other around and just being reduced to little kids by being around each other took me way back to my best friend as a kid. It tugs at the heartstrings sure enough.
The Bad
Gritty and serious- If you're a fan of noir, sombre or serious moods you won't find that here.
The Ugly
Hilarious hot mess of a superhero duo with so much drama they could write their own soap opera. Priest and Bright combine in this series to give us an instant classic! 5/5