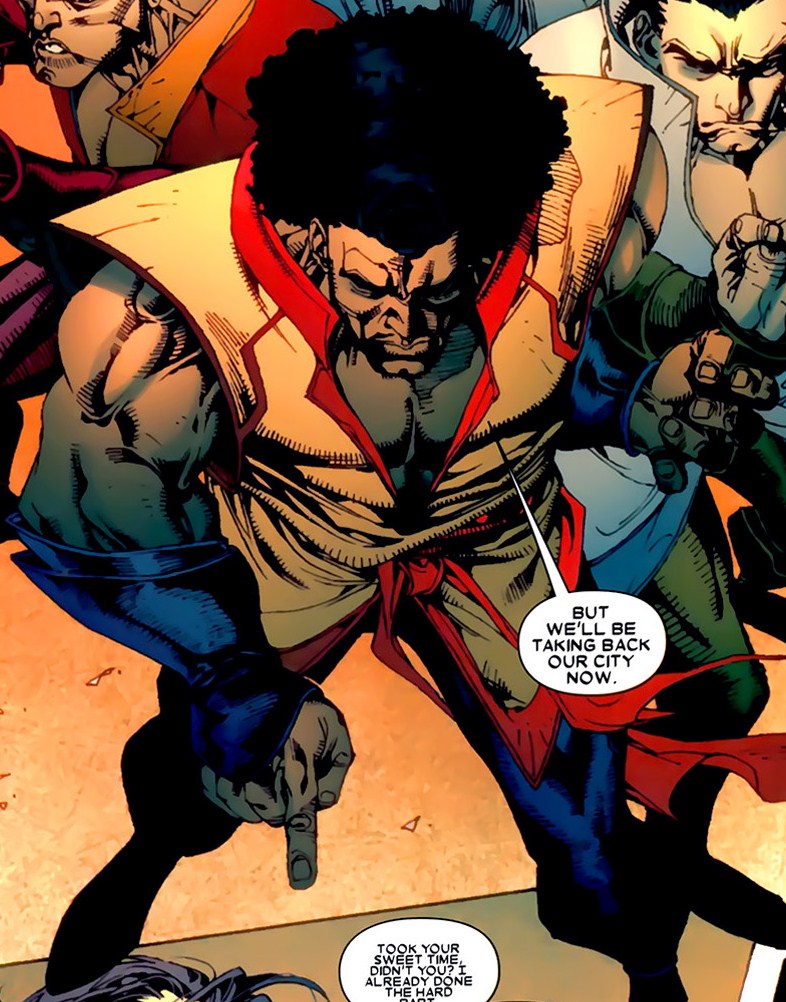 Created by: Jim Englehart and Jim Starlin
1st appearance: Deadly Hands of Kung Fu #1; April 1974
Nationality: American
Aliases: Black Tiger
Team Affiliations: Sons of the Tiger
Legal Status: No criminal history
Height: 6'3               Weight: 215 lbs
Eyes: Brown               Hair: Black
Relatives: Hobie Brown (brother- aka the Prowler), Misty McPherson (sister-in-law), "Tiger" Brown (father; deceased)
Skills and abilities: Master Martial Artist
Powers: None
Equipment: When Abe donned one of the jade tiger amulets his martial arts skills will combine with the others who have donned the two remaining amulets and triples the wearers skills, strength, stamina, endurance, and agility.
Biography
Abe brown was born in Harlem, New York. As a young man he was a victim of a hate crime which led him to take up martial arts so he would not be victimized again. He studied under Master Kee, along with two other students; Bob Diamond and Lin Sun. when Master Kee was killed by ninja assassins, the three students came together to form the Sons of the Tiger. Lin Sun had in his possession an amulet which separated into three parts. When three fighters don the amulets, their skills and physical abilities are tripled. (Deadly Hands of Kung Fu #1; April 1974)  The Sons dedicated themselves to combating the forces of evil, and fought alongside some of New York's hometown superheroes such as Spider-man. The group split up after a rift developed between Bob Diamond and Lin Sun, who were seeing the same woman. Lin Sun gathered the amulets and tossed them away, which they were later found by Hector Ayala.
Upon the break-up of the group, Abe sought to take a vacation. While in route to his destination, his plane was hi-jacked. The plane subsequently crashed in the African desert, with only Abe and the leader of the hijackers surviving. The two were found by a rebel Muslim group, which passed their leadership mantle to Abe after he defeated the hijacker, who fell into a pit of snakes while being startled by Abe catching a bullet in his bare hands. The group named Abe "Black Tiger", and he led them on many adventures before Abe returned home and opened up his martial arts school. (Powerman and Iron Fist #82; June 1982) Abe rejoined the sons of the tiger to fight alongside the Heroes for Hire when Master Khan attempted to retrieve the amulets that created the sons and rejoin it to the fable jade dragon. (Powerman and Iron Fist #74; Oct 1981) Abe later on hired the Heroes for Hire to help clear his name after being accused of committing crimes in the country of Haiwan. Powerman and Iron Fist take the case, and are attacked by assassins hired by the king. The duo along with Abe Brown, go to the country and learn that Abe, as the Black Tiger, fought alongside the rebels in the neighboring country, and lost his memory after being struck in the forehead with a bullet. (Powerman and Iron Fist #81-82; May and June 1982)
Abe is the brother of Hobie Brown, who is the black hero known as the Prowler.