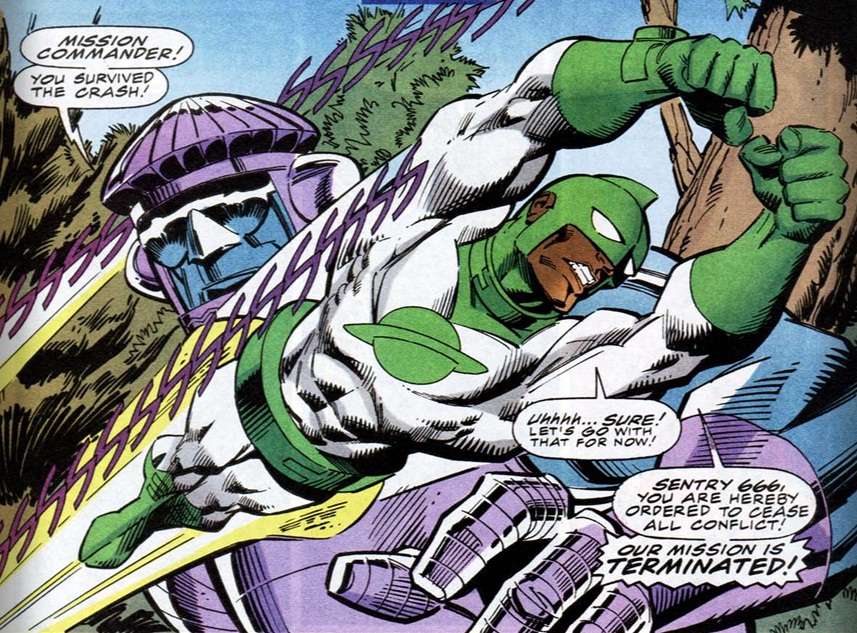 Publisher: Marvel Comics
Real Name: John Foster
Created by:  Tom DeFalco, Ron Frenz, Bret Breeding
1st appearance: A-Next #2 (Nov. 1998)
Nationality: American
Team Affiliations: Avengers
Legal Status: US citizen with no criminal record
Height: 6'          Weight: 215 lbs
Eyes: Brown          Hair: Black
Relatives: Bill Foster (father)
Skills and abilities: Kree combat training has been downloaded into his mind granting him knowledge of various kree martial arts, armed and unarmed combat skills etc
Powers: Genetic modification has made him a Kree-human hybrid with superhuman strength, endurance and resilience. His costume grants flight and the ability to fire photonic energy.
Biography
While investigating a crash site with his father they discovered a crashed Kree probe. The automated defenses activated and they were attacked. His father managed to send for help to the Avengers. By the time the Avengers arrived he was separated from his father and found himself in the heart of the ship. There he was transformed by an energy pulse which modified his DNA into a Kree Hybrid.
Now in a green and white he defeated the robot and went on to protect the earth as "Earth Sentry". Years later he would save the Avengers from the revengers and join the team.