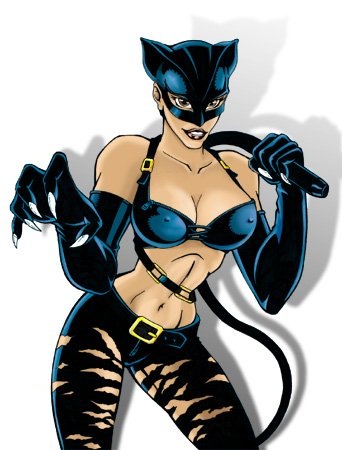 Created by:  Theresa Rebeck, John Brancato and Michael Ferris based on Catwoman created by Bob Kane
1st appearance: Catwoman, (July 23, 2004)
Real Name: Patience Phillips
Nationality: American
Team Affiliations: None
Legal Status: Unknown
Height:  5'7             Weight: 112 lbs.
Eyes: Brown             Hair: Black
Relatives: Unknown
Skills and abilities: Skilled hand to hand combatant.
Powers: Patience has catlike agility, also like a cat her limbs are attached to the shoulder by free-floating clavicle bones, which her to pass her body through any space into which she can fit her heads.
Equipment: Diamond tipped claws and a whip.
Biography
Patience is the latest in a long line of Catwomen reborn through the power of Bast the Egyptian goddess Bast. Before her rebirth she was a mild-mannered graphic artist working for a corrupt company. Upon overhearing a plot to sell defective yet addictive products to the public she was flushed out of a water conduit pipe and died. Luckily for her life was breathed back into her body by an Egyptian Mau Cat.
Upon returning home she realized that she had gained certain catlike abilities. She tracked down the researcher Ophelia Powers who let her know what she had become and the legacy it contained. Dressed in a costume to hide her identity she took to the streets at night to seek answers for her death and to satisfy her new cravings. She eventually discovers Laurel Hedare was responsible for everything after she was framed for Laurel's husbands death. She breaks out kills Hedare and abandons life as Patience to live freely as Catwoman.