Ultimate Comics Spider-man #10 Review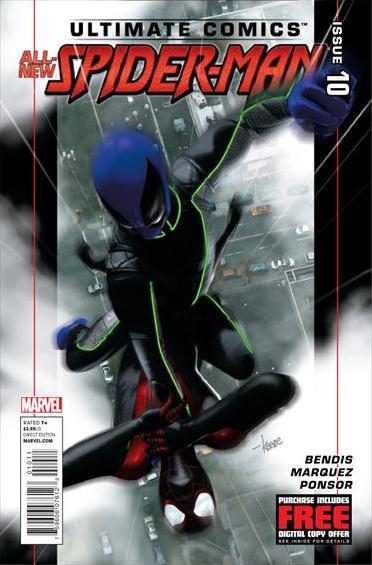 Summary
Miles in Spider-man garb arrives on the rooftop to meet with his uncle Aaron/Prowler. They discuss Prowler training him in the use of his powers. They have a brief skirmish in which Miles gains the upper hand. Prowler tells Miles that he's not really a villain just a thief and also lets him know about the new scorpion. Miles thinks about it and eventually agrees to help.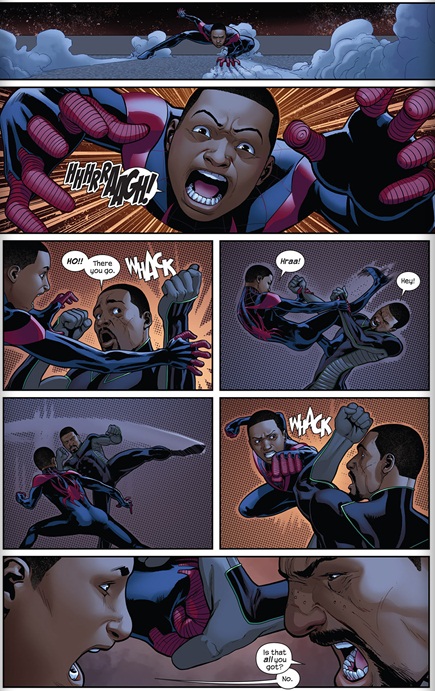 The Good
Characterization- Bendis and I have a love and hate relationship this issue like early New Avengers books illustrates just how well he can craft an emotional, action packed, deeply character driven tale. Honestly this was almost perfect!
Art-Marquez continues to dazzle as he almost seamlessly takes over Sarah Pichelli's art reigns almost seamlessly. The emotions and actions scenes in particular are just awesome!
Bond– Words can't express my love for Miles and his Uncle Aaron. While Peter's dad was dead and his "uncle" was clean and wholesome, Miles dad is alive and his "Uncle" is a villain of the highest order. He's clearly manipulating Miles to take down the competition, Miles doesn't realize this yet. They are still far closer than Miles and his parents which makes the eventual clash between them so much more heartbreaking.
Action- Fight between Prowler and Miles was well choreographed and executed. Love it!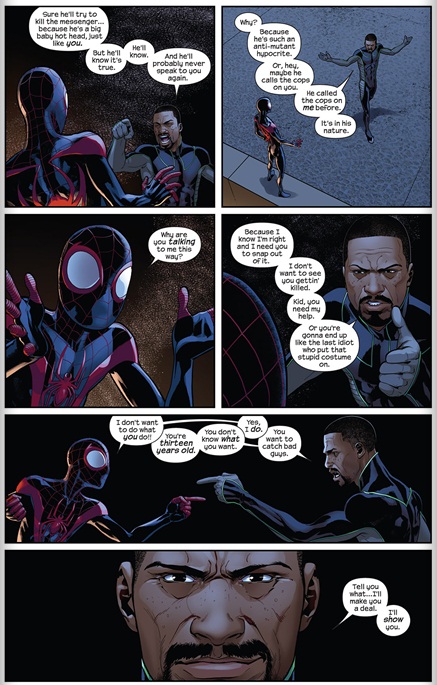 Splash pages– A favorite of Bendis written books and these two are gorgeous and well used.
Accessibility- This issue gives enough information on all the character contained within to make it instantly accessible to new reader. Always a good thing!
The Bad
Cover– Not the best cover this series has ever had. It shows Miles and Uncle Prowler locked in battle as they plummet to the New York streets below. The pose isn't the best as it obscures the view of prowler which would be fine if Miles was in the center of the cover. Perhaps the typical versus pose where each character shares the cover 50/50 or a side angle of said scene would have been so much better. As it is it's the worst cover for the series so far. Batwing this month illustrates a much better version of what they planned here.
The Ugly
Emotive, action packed and full of drama 4/5