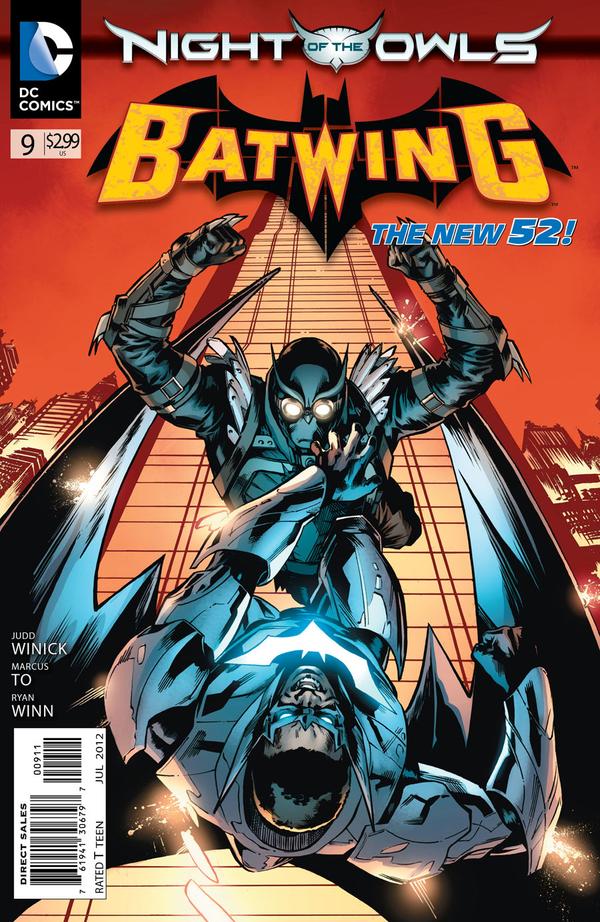 "NIGHT OF THE OWLS" continues here!
BATWING arrives in Gotham City just in time to fight the chaos the Court of Owls has unleashed! Outgunned and on unfamiliar turf, can Batwing survive?
Summary
Flashback to the 1800's the court of owls decided to take their fiercest "Talon" out of circulation until he's needed once more.
In the present Lucius Fox is helping Matu Ba ND Batwing upgrade his armor. He also invites them to a party. Elsewhere the Talons and sent to kill the power players of Gotham. At the party one of the Talons is sent to kill Lucius Fox. Batwing engages the target and luckily his armor's new upgrades help him to save Luscious and take down the talon. 
The Good
Art-Marcus To is on art duties and things look great while the colors courtesy of Brian Reber are fitting despite their subdued nature.
Cover- Similar to the cover for Spider-man this month but vastly superior in its composition and focus; It shows the fight between Batwing and Talon as they plummet to the Gotham Streets below.
Crossover- Crossovers can either be bad or good for a book. This one fits nicely into Batwing's visit to America (along with his appearance I Justice League International). I like Batwing's side story and getting dragged into Bruce and companies crazy world.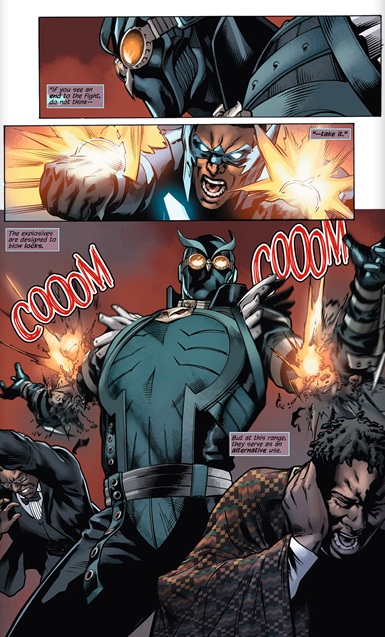 Characterization- David Zavimbe is surely not another Bruce Wayne clone. This issue presents him with a high society party for which he is ill equipped. He's not used to the opulence or the female attentions or even playing hypocrite with politicians. He has allot to learn before he can be a chameleon like Dick/Jason/Tim/Bruce, his rough exterior is a welcomed change to the typical clean cut "bats" that run around Gotham.
The Bad
This story really has no bearing on the main storyline but was an interesting little distraction.
The Ugly
Good art and it's neat Batwing was given this crossover with the "Night of Owls" but this issue was certainly filler it's time to get back to real Batwing related tales and return to Africa 3/5