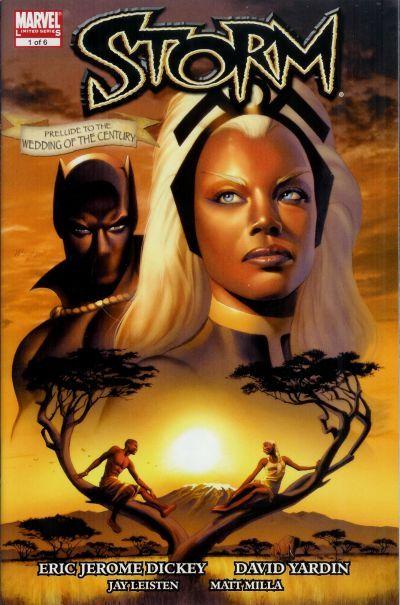 The epic, untold love story between Marvel's two pre-eminent Black super heroes — Storm and the Black Panther — is finally told, as only New York Times best-selling author Eric Jerome Dickey can do it! An orphaned street urchin, living by her wits on the unforgiving plains of Africa as she struggles to harness her slowly-developing mutant powers…A warrior Prince, embarking on his rite of passage as he ponders the great responsibility in his future…And a crew of ruthless mercenaries who'll stop at nothing to capture an elusive creature of legend — the fabled wind-rider. What sparks occur when their paths intersect? Don't miss out on this story, True Believer, as it builds to a July Event that will shake the entire Marvel Universe.

Summary
Many years in rural Africa Ororo Munroe an Orphan with White hair and Blue eyes tracks a man carrying a camera. Her friends dare her to try and take it which she does. As they flee however she trips and is almost caught and killed but she manifests her powers which save her. The hunters then decide to hunt her down since she must be worth a fortune with her powers. Ororo meets up with the other thieves who congratulate her on the heist; one girl however clearly hates her.
That night at the camp side the orphan's pair up with each other, Storm is having none of it. She reminisces about her parents and the events leading up to their return to Africa. Startled by her new teacher she causes lightning to rupture the sky leading both the hunters and a young T'challa closer to her location. After a daring display of her lock picking skills, some of the other orphans are found by the hunters who demand to know where Storm is, her rival decides to help them.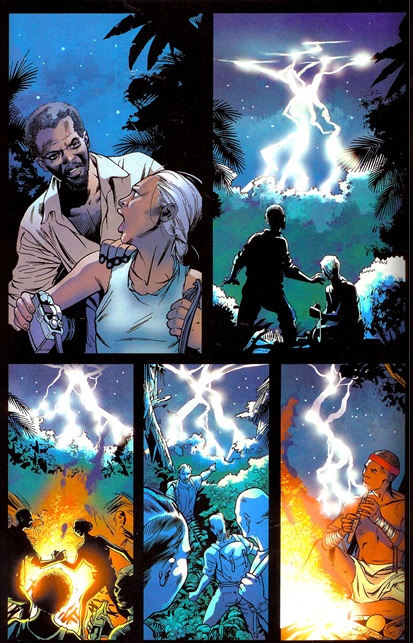 The Good
Cover-Pretty good looking cover with deep symbolism. At the bottom of the cover we have a single tree split in two with a young Black Panther and a young Storm on each side facing each other. I take this to mean a shared royal lineage (not that they are related but they are both descended from royalty) and divergent paths they are on, thus the separate branches they are on. The tree then curves back toward each other at the top suggesting a meeting of some kind. This curved tree also has the appearance of a heart, suggesting love. AT the top of the tree we have Storm and Black panther in their current adult form with the banner Prelude to the wedding of the century. That's pretty much self explanatory. Mike Mayhew turns in a solid cover!
Art- David Yardin is on the internal art and I must say I highly enjoyed it from start to finish, proportional and realistically rendered characters with a knack for action.
Origin- This story fits into the time after Storm left Acmed El Gibar but before she came t be worshiped as a goddess in the Sahara.
Intensity- I found Eric Jerome Dickey'S handling of Ororo's character here on the cusp of woman hood pure gold. He also manages to implement allot of social commentary, teenage sex, peer pressure, the longing for acceptance and loss. All hit the right notes and made young Ororo a very engaging read. His is one of the most character driven stories to involve Storm, Ever!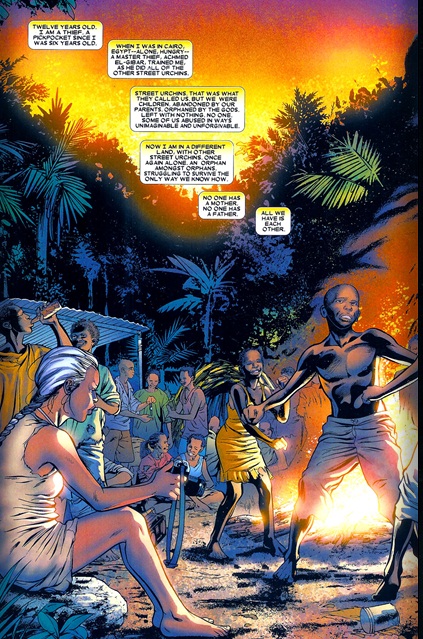 Powers- I love the way in which her powers manifest throughout the story, as a result of emotional stress. The elements mirror her emotions and the art does a damn good job of capturing the moments.
The Bad
Cover- What is up with Storm's eyebrows? Not sexy at all!
Retcon- Biggest complain for most detractors is that this tale puts a new spin on how Ororo actually met T'challa. Guess what guys retcons are a part of how comics are written so love them or hate them they are here to stay.
The Ugly
3/5 great start