Spider-Island: Cloak & Dagger #3 Review
Summary
The fortune teller revels in her ability to see the future. At Negative's place Dagger now in possession of Cloak's darkforce powers rages out of control high above the city. Cloak begs Mr. Negative to allow him to save Dagger who is in desperate need of light. Mr. Negative agrees and grants him Dagger's light powers. Cloak flies up to her and they share a passionate kiss which causes a massive shockwave and satiates her powers.  In the aftermath Cloak and Dagger accept their new status quo, both finally understanding the other better than before.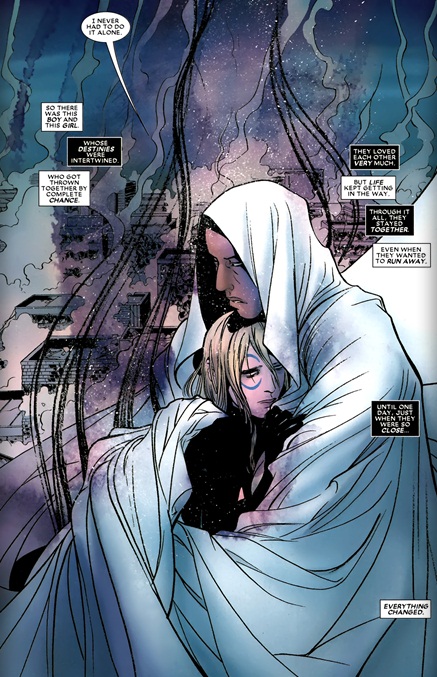 Elsewhere Negative says he's not trying to avoid his inevitable death since he has made a deal with the devil, we see the demon D'Spayre.
The Good
Cover- Dagger wrapped in Cloak's costume literally misting out of Mr. Negative's head, looks awesome!
Interior art– This entire series has just been pure heaven to look at!
Things to come- The ending teased the demon D'Spayre and Mr. Negative along with Nightmare and a slew of other villains and snippets of the future. If the ongoing is kicked off with this writer sign me up for the thrill ride now!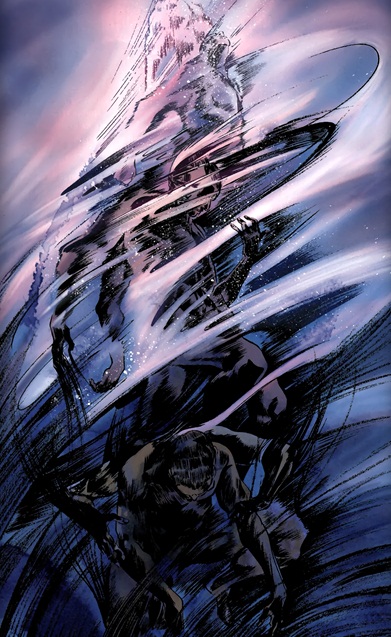 Potential- With the switching of powers for Cloak and Dagger we still have the familiar duo but in a very new status quo. How much will their personalities change with her new powers? How different will they use the powers?  Will the new powers suit them more than the originals? Only time will tell!
The Bad
Change- I'm expecting purists to hate the switch of powers of the titular duo
Art- Some will still not be liked by everyone and thus will keep them away.
The Ugly
I love the new direction and the set up for hopefully a brand new Cloak & Dagger series by this writer 4/5