Fury of Firestorm: The Nuclear Men #2 Review
Summary
Fury the unstable merger of Ronnie and Jason Rusch take on the terrorists. Before they can finish them off the police arrive and they flee with Jason's girlfriend in toe. Jason also explains to Ronnie the history of the firestorm matrix and his connection to professor stein. The terrorists call in backup, he Hyena Pack and blow up the school. Jason explains two his girlfriend and Ronnie that they can never go home again now that they are involved in this. Same time the authorities arrive at their homes o tell their parents they are terrorists who blew up the school.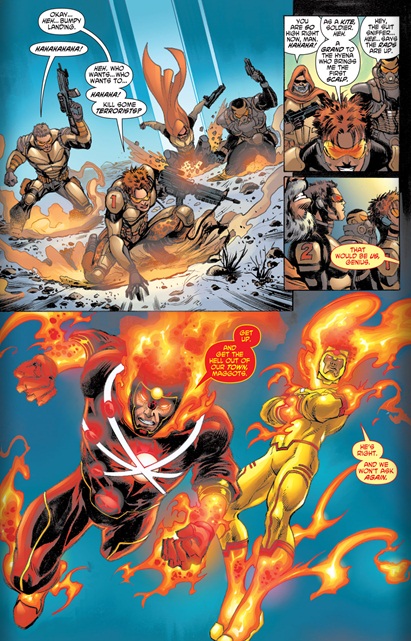 The Good
Characterization-Small touches like Jason's molecular control of his powers thanks to his big brain and Ronnie being far more maneuverable thanks to his athleticism really add allot of depth to things.
Art-Yildiray strong dynamic artwork is both stunning and gorgeous all at once. Firestorm is easily one of the Artist highlights of the DC New 52.
Conspiracy Theories– Ok now this is exciting!  Three teens caught up in a global conspiracy now on the run from the authorities with danger at every turn!
Action– Last Issue had a touch of action but this one ups the ante
Cast– Black Superhero? check!  White Superhero? Check! Asain supporting cast? Check! Loving the multiracial cast!
Potential- The last Firestorm series started out with characterization front and centre but this series has a global conspiracy at its heart and for that it has better pacing for it!
The Bad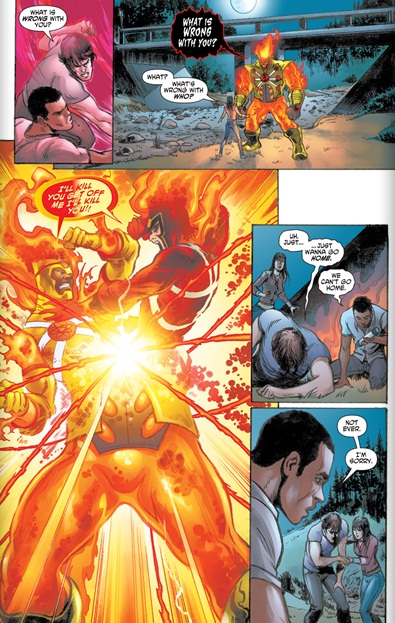 Retcon– Biggest problem with this new series is the loss of Jason's past as an abused child and the slow yet rewarding character growth he underwent throughout the Firestorm series. His more commanding personality is far more relate-able BUT considering there aren't many superheroes from abusive homes this loss of his very original origin is a letdown.
The Ugly
Very Exciting 4/5