Quentin Taylor (Character)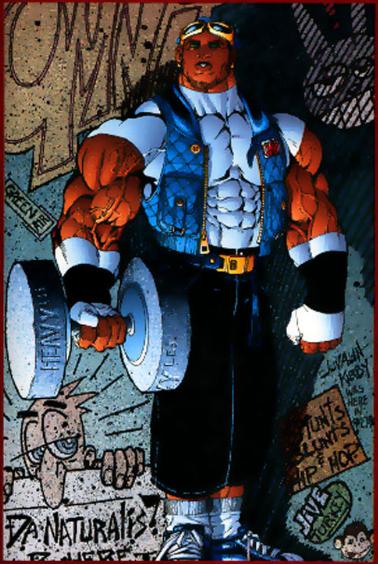 Publisher: Wildstorm
Created by: Brett Booth and Juvaun (J. J.) Kirby
First Appearance: Backlash #24, 1996
Alias: Omni, Black Halo
Nationality: American
Team Affiliations: New Dynamix
Legal Status: U.S citizen with no criminal record.
Weight: 332 lbs    Height: 6'7
Eyes: Green        Hair: Black
Known Relatives: Katherine (mother), Sherylynn (sister)
Powers: He has vast psionic powers used to summon telekinesis to fly, move objects and shield him self from high levels of outside force. He mostly uses this power to enhance his strength and mimic superhuman strength and invulnerability. it's also theorized that he has reshaped his body with his powers to reflect his perception of a perfect "him".
Biography
Once an overweight rapper and artist he was abducted from his home and altered on a genetic level resulting in super powers and strange markings on his back. With the help of backlash , he turned himself over to department PSI where they could tests, monitor and train him in the use of his powers.
Sometime after this he became a notable superhero (under alias Black Halo) as he was listed as "b-rank" he also got a few endorsement deals and was a featured rapper on many mixtapes. For unknown reason he retired from heroics and relocated his entire house to a desert along with his friend Greymalkin. When one of his friends was killed on national TV by Sword he came out of retirement to avenge him. This was how he joined the New Dynamix team.