Kaylie- Witchblade (Character)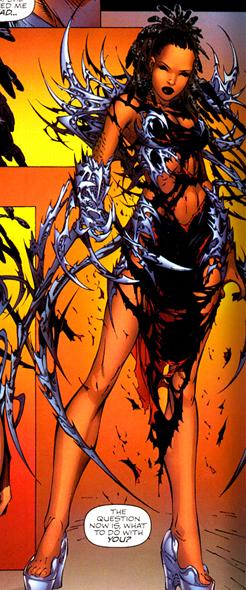 Created by:  Chris Claremont and Eric Basaldua
1st appearance: Witchblade/Wolverine #1, 2004
Nationality: Unknown
Team Affiliations: unknown
Legal Status: unknown
Height: 5'6″              Weight: 120 lbs
Eyes: Brown            Hair: Brown
Relatives: Unnamed father (deceased)
Skills and abilities: Unknown
Powers: She possesses the superhuman ability of telepathy. She gained additional power from within the Witchblade, power limited only by her imagination.
[youtube=http://www.youtube.com/watch?v=X92MalkVjEY&feature=related]
Biography
Kaylie developed low level telepathy at puberty marking her as a mutant. It's unknown what training she got in the use of these powers though she was known to the x-men's Wolverine. When her father became a federal witness against mob boss Simyon Lebedev, her family was murdered. She received the news while at attending a school just outside New York and decided to get revenge. It was here that she  tracked down Sara Pezzini the latest wielder of the fabled witchblade. The Witchblade was instantly drawn to her and using her powers of telepathy she subdued Pezzini and took the witchblade. It is unknown where she found wolverine and as thanks for holding the witchblade for her she used her powers to make Wolverine and Sara fall deeply in love as she sought out Simyon. She thought her powers would help her wield the witchblade but it bonded to her rage and violence, essentially taking her over. She joined with Simyon to kill Wolverine and Sara but Sara forcibly took back the witchblade resulting in her death.