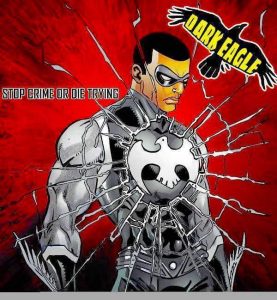 Government name:Trent Taylor
AGE: 17yrs old
publisher:?

Created by: Miles Silas Biggar
1st appearance: Sept. 2018, Nationality: Black
Team Affiliations: The professionals (consists of his partners Gold Dragon and newcomer Fire Axe)

Legal Status: High school minor with no criminal record.
Height: 5'9                     Weight: 160 lbs.
Eye color: Brown       Hair color: Black
Relatives: Mother: Faith (deceased), Father: Michael Taylor and brother: Devin Taylor
Skills and abilities: Kick Boxing, Gymnastics
Powers: able to Fly and extremely fast,Keen Hearing & Smell, Night Vision, Super Human Strength, Can communicate with birds,Wings are bullet proof and Claws are razor sharp.
 Weakness:Very loud noises,Very Bright lights, results in temporary blindness
Biography:
Trent Taylor is a 17-year-old teenager from Philadelphia, Pennsylvania who loves playing video games more than anything in the world.
Trent's obsession for playing video games resulted in lying to his mother on a school night, claiming that he was not feeling well. Trent's mother decided to make a quick run to the store for medication, which allowed Trent to stay up a little longer playing his video games until his mother returned home. This would be the last time Trent would see his mother alive.
Trent's mother did not know the hazardous conditions of the road due to a severe storm which ultimately lead to her demise, crashing into a tree. Unfortunately, Trent was left with no choice but to live with his father, Michael Taylor (whom he barely knew), and half-brother, Devin Taylor, in Brooklyn, New York, immediately after his mother's fatal car accident.
Trent is a very smart, but cocky kid, who never got over his mother's death and constantly blames himself for the tragedy.
As Trent tries to adjust to the big city of New York, he meets a girl that lives across the street from him. Her name is Lisa Love nicknamed "Lollipop." Lollipop is a 15-year-old native New Yorker who can talk! She welcomes Trent to the neighborhood. Lollipop is a loud-mouthed girl that knows everyone in the neighborhood and their business. As Trent and Lollipop tour through the neighborhood, she tells Trent the do's and the don'ts.
Trent is very independent, often not wanting to rely on his father for allowance. He noticed a help wanted sign in a local shop window. Lollipop stressed to him to never step one foot into the creepy shop at the corner of the block where the owner, Anna, has been looking for help for years. Anna, a mysterious loner, has been in the neighborhood for a very long time. Everyone thinks she's a witch or just a crazy old lady and keeps their distance from her. Trent goes against Lollipop's advice about Anna and finds out that Anna has very deep secrets.
Trent Taylor's story begins as The Flying Dark Eagle.