Publisher: Image Comics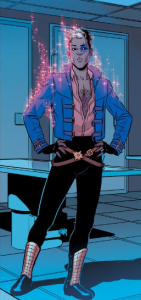 Created by:  Kieron Gillen and Jamie McKelvie
1st appearance: The Wicked + The Divine, December 17, 2014
Nationality: African American
Team Affiliations: The Pantheon
Legal Status: Unknown
Height: 5'7                   Weight: 130 lbs
Eye color: Purple              Hair color: Black
Relatives: Unknown
Skills and abilities: World class performer.
Powers: Inanna's miracles had a pink, glittery appearance and have been shown to include:
Divination: He was able to perform divination to learn more about something he was touching, and could also use it to pinpoint the locations of the other gods through use of various star symbols.
Starlight Travel: He was also capable of travelling through means of starlight (though in a different manner to Amaterasu) which granted him flight and the ability to teleport himself and others. This could be used for simple transportation but also employed during combat as a way of evading his opponent, causing him to dematerialize.
Performance: His performances inspired orgies on a large scale, something that seems to be in part related to his kind demeanor as very few dislike him. His performances cause the area around him and those involved to be engulfed in his pink aura, and the acts themselves seem entirely consensual. They are described as "sex with the volume turned up" by Baphomet.
Biography
Inanna is the Sumerian Goddess of love, beauty, sex, desire, fertility, war, combat, justice and political power, and is one of the gods of the Recurrence, symbolized by an eight-pointed star. He is known to have appeared in the 450s, 1830s and 2010s Recurrences.
Inanna's original name was Zahid. Even before the 2010s Recurrence, he was a fan of the Pantheon. He attended Ragnarock 2013 and witnessed Laura arguing with David Blake. He also liked Cassandra's writing and videos. Before his incarnation, Zahid was very shy and afraid of many things about himself. His "go-to cosplay was wallpaper". His incarnation in late 2013 freed him of fear and enabled him to be whoever he wanted to be.
Inanna once performed for a whole week in Camden, and Laura attended every one of the performances and bought a souvenir shirt. He often performed at residencies, preferring more intimate venues to large crowds. He has had lovers of both genders over the years, most notably Baal. He's modledafter the singer Prince.