Meet The Independents: MegaCon Orlando Fl; Women of Color In Comics
Comic book convention season is in full swing and there are plenty to choose from. This year, I popped into MegaCon in Orlando Fl., one of the biggest cons in the state, and go support one of my Independent creator friends and supporter of the Worldofblackheroes website, Dorphise Jean, creator of the Haitian comic character Spirit, making her Con debut. (more on Dorphise later) I was also making a second attempt at meeting up with Terance Baker, founder of the ICC Independent Creators Connection and creator of The Pink Hammer, who slipped away from me 2 years prior at the ICC convention, and see other fellow ICC group members. My visit was twofold in that I set out specifically to visit every booth of a woman of color that I saw. I was very intent in that purpose, and spent hours roaming around in Artist Alley so that I can meet my sisters and show them my support.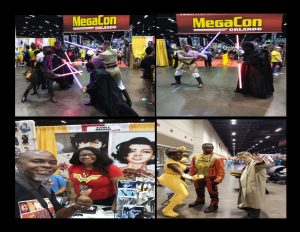 Upon my arrival into the convention I was greeted by a troupe of Star Wars cosplayers whom were not only excited to have their picture taken, but were fans of the website. Meeting this group of enthusiastic fans was a great start. Prior to entering, I saw Alitha E. Martinez's name on the program and upon departing the cosplayers intently made my way toward her table. Ms. Martinez, for those who may not be aware, was the artist for several issues of the comic Superb, as well as providing pencils, inks, and a Hip Hop variant cover for the World of Wakanda series. She has worked for Marvel since the 90's, and recently released her own comic entitled Yume and Ever. I arrived at her table but was only able to briefly talk with her and introduce myself before a large group brushed me aside. I watched her answer questions about her work on the series and listened to her talk about her experience in the comic industry as a woman of color. I was able to see that know matter how much fans wrought adoration on her and her art, she was still as humbled and appreciative as ever.
As I ventured on, making my way to Dorphise's table and searching for Terance, by happenstance I stumbled across one of the more interesting Independent creators in recent times, Tee Franklin. Referring to herself as an activist and rabble rouser on her personal page, Ms. Franklin took the time out to speak to me about her journey to getting her book picked up by Image Comics. A Queer Romance Comic writer, Tee won the 2017 Queer Press Grant for her book Bingo Love, the story of two women who begin a romance in 1963 but are separated, only to meet up again 50 years later, and raised nearly $60,000 via kickstarter for her book. Being both a woman of color and queer, Tee spoke of the threats of violence, death, and even rape (yes I said rape) she has received over her book, but how that doesn't compare to the need for representation for not just Black women, but for the whole LGBTQ community. I relayed to Tee about my coming to see my friend Dorphise Jean, and she responded back with, "I've heard of her." Now my mission has become to introduce Tee and Dorphise, so I left Tee's table and continued to make my way to Dorphise.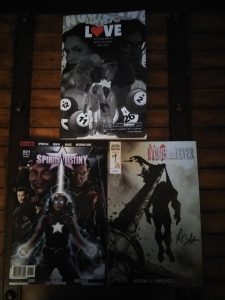 Dorphise is a Haitian American comic book writer and creator of Spirit's Destiny. She is proud of her Haitian heritage and also a proud member of the LGBTQ community. I met Dorphise a few years back before the release of her comic, and we have remained good friends ever since. This being her first comic book convention, I wanted to not just show my support, but get the firsthand reaction of a first time Independent Creator at a major con such as MegaCon. Dorphise's comic has been popular since its release back in 2017; so much so that it garnered her an invite to the Lagos Con! She was surprised at not only the reception her character received, but as to how engaged the fans were with her. To see her excitement as she experienced the con as creator and fan was just as exhilarating for me. I could not help but smile for my friend as she talked about her book to potential new fans. It was equally gratifying to hear that she was only 6 books away from completing her sales goals!
I convinced Dorphise to take a break and took her over to meet Tee. When we got to Tee's table, we were able to bear witness to one of the more real life aspects of being a comic creator. A group of about 6 young ladies were huddled around Tee and were discussing her book's characters. The young ladies, all between the ages of 18 and 20 years old, whom began to question Tee about life as a gay woman, and other issues involving the LGBTQ community. Dorphise and I waited and listened to the conversation, and afterwards, were there to see Tee breakdown in tears. She was overwhelmed by the reception of her book and the impact it had made on the young ladies. For Dorphise, just seeing how invested the fans were in Tee, and how in return she invested time with them, was inspirational. "I want to be like that one day", Dorphise says.  As I made the introductions, both creators came to realize that they were fans of each others comic! Dorphise and spent a few more minutes visiting Tee and both ladies had to get back to work.
As things wound down and I geared up to leave it dawned on me that I had yet to see my friend Terance! He had slipped away from me again! He graciously sent me a few pictures of him at the convention, so I know he was there! I am going to have to catch up with him at the next con!