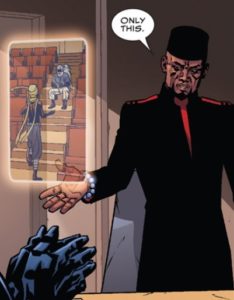 Created by: Ta Nahesi Coates and Brian Stelfrez
1st appearance:
Nationality: Wakandan
Team Affiliations: Taifa Ngao
Legal Status: Citizen of Wakanda
Height: 6′              Weight: 180 lbs
Eyes: brown         Hair: Black
Relatives: Unknown
Skills and abilities: Unknown. He seems to be ableto access a wide range of information about just about everyone in Wakanda. His network is vast.
Powers: None
Equipment: Unknown
Biography
Member of the Taifa Ngao (Shield of the nation). He was the one who made the presentation on who Zenzi was to the council which was attended by T'challa/Black Panther, Ramonda the Queen Mother, Akili Head of the Hatut Zeraze and others [Black Panther Vol.6 #2].
After the Panther is confronted with Tetu and Zenzi he again briefed the Taifa Ngao on the situation. Detailing the meeting of Changamire and Tetu at the university before the attack, the revelation that the Midni8ght Angels had killed Lord Man Ape's brother and taken his city etc.
He was present when Ramonda was injured and T'challa declared war on them [Black Panther #4].
After Black Panther  captured some of the revolutionaries he broked a meeting between the words greatest counter revolutionaries; Alejandro De Jesus of Santo Marco, Alexie Sablinova of Symkaria, Sisowatha Heng or Madripoor, Karl Van Baer of Alberia and Jorick Kroawl of Genosha which was also attended by Akili head of Wakandan's Hatut Zeraze [Black Panther V6. #5 2016].
He was the one who called in The Crew; Storm, Misty Knight, Luke Cage and Eden Fesi; to aid T'challa when he was Captured by Zeke Stane and the Fenris Twins [Black Panther #6,2016].
Present after Shuri's resurrection and she gave them afvice on how to deal with the revolution [Black Panther #9,2017].
He was the oine that transmitted Chamgamire's message to Wakanda which weakened the rebellion significantly [Black Panther #11].