Publisher: ?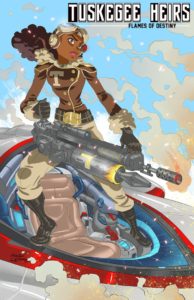 Created by: Greg Burnham and Marcus Williams
1st appearance: Tuskeegee Heirs #1, 2016
Nationality: African American
Team Affiliations: Tuskeegee Heirs
Legal Status: Unknown
Weight: 130 lbs    Height: 5'5
Eyes: Brown            Hair: Black
Relatives: Unknown
Skills and abilities: Brilliant strategist
Powers: None
Equipment: Uses a blaster in combat
Biography
Ayanna is the team leader and strong moral compass that keeps the team in well oiled shape. A brilliant strategist and cool head under pressure, Ayanna was born to lead, and you'll be hard pressed to find a team member that will admit otherwise.