Publisher: DC Comics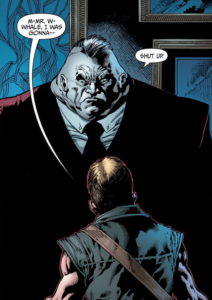 Created by: Tony Isabella and first illustrated by Trevor Von Eeden
1st appearance: Black Lightning #1, April 1977
Alias: The White Whale

Nationality: American
Team Affiliations: Intergang, The 100
Legal Status: Unknown
Height: 6'5                       Weight: 400 lbs
Eyes: Pink                        Hair: Bald
Family: Unknown
Skills and Abilities: Very adept street fighter, capable leader and tactician.
Powers: Though not considered superhuman he is capable of lifting 600 lbs and is at the very peak of human strength.
Biography
Tobias Whale is an African American albino. He has seemingly been involved in crime all his life and next to nothing is known about his youth or family. He eventually worked his way to being head of the Metropolis branch of organized crime unit called "The 100".
Drug trafficking was their main source of income and it was this that lead him into conflict with school teacher, Jefferson Pierce. Jefferson spoke out against "The 100" and their Drug trafficking ring. This angered Whale who made an example that any resistance would meet death by killing one of Jefferson's students [Black Lightning #1].
Pierce as Black Lightning devastated his crime network and sent Whale to jail [Black Lightning #2-3]. Months later Tobias breaks out of prison and teams up with the villain Syonide. They planned to develop a new highly addictive drug with which they plan to rebuild his empire. The woman who possessed the formula for this drug was captured but when nothing could be gleaned from her Syonide killed her.
Violet returned to life as "Halo" and Whale again tried to get the formula from her but was unsuccessful [Batman and the Outsiders #20].
Whale later tries to take over the Gotham city crime families after Black Mask' death, this leads to a gang war between himself and intergang. They buy him out and make him CEO of Kord Enterprises, a company which front's for Intergang's criminal activity [Gotham Underground #1-8].