Meet Supergirl's Guardian!
The CW's Supergirl has started it's new season with a serious bang. Superman has landed and his portrayal has struck a chord with purists. Now we have this lovely image below showing the underutilized Mehcad Brooks in full on superhero mode:
"James Olsen takes on the mantle of the classic DC Comics hero, Guardian. With his trademark shield intact, James will fight to protect National City alongside Supergirl". "James has a pretty big turn coming up. These next few episodes are going to make him realize that being a photographer…is not enough for him, so he's going to go on a pretty exciting career trajectory that we're pretty pumped by," teased executive producer Andrew Kreisberg. "James is going to decide that he can no longer sit back and be a sidekick, so he's going to become a vigilante. He's going to become Guardian, complete with the shield, which is going to cause a massive problem in his relationship with Kara, because he's not going to tell her."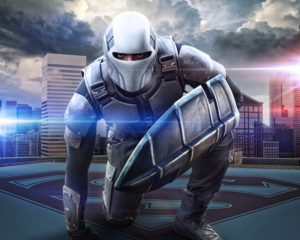 Sounds good to me! Color me excited!
~DIG DEEPER INTO THE COMIC BOOK GUARDIAN HERE~
Supergirl airs on Mondays at 8 p.m. ET/PT on The CW.
What do you think?
Sound off Below!
More as it Breaks!
[Source: Comicbook.com]