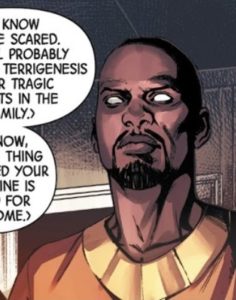 Publisher: Marvel Comics
First Appearance: All New Inhumans #10, 2016
Created by: James Asmus and Stefano Caselli
Real Name: Unknown
Team Affiliation:  The Inhumans of Utolan
Height: 5' 10"                           Weight: 150 lbs.
Eye Color: Brown                 Hair Color: Unknown
Relatives:  Unknown
Skills and Abilities: Trained unarmed combatant
Powers: He is described as a technopath, this gives him the power to commune and control machines.
Biography
Born and raised high in the secluded Inhuman city of Utolan located in the Chimanimani mountains, Mozambizue, Africa. He was chosen to undergo Terrigeniss and transcended to his true form [All New Inhumans #10, 2016].
Trained as a champion (Warrior) he spent years honing his skills in the protection of the elders. When the young elder known as Sanara rebelled against the old ways and proposed an alternative and more radical view of their beliefs, Passcode joined her cause alongside his fellow champions [All New Inhumans #10, 2016].
When Sanara planned to use the stolen blood of Kravanoff and bring terrigenisis to all of Atulan he was at her side and battled Kravinoff but was defeated [All New Inhumans #10, 2016].
It is unknown what became of him after this.