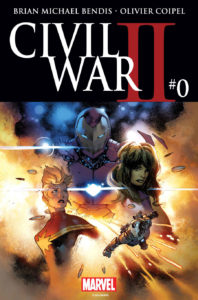 The opening salvos of the war that will fracture the Marvel Universe will be fired here! Today Marvel is pleased to present your first look inside CIVIL WAR II #0 – coming to comic shops and digital devices this May! From the blockbuster creative team that brought you House of M and Siege – Brian Michael Bendis and Olivier Coipel bring you the blistering first chapter of the comic event of the year. His name is Ulysses – a new Inhuman with the ability to profile the future. His emergence sends shockwaves through the Marvel Universe. Will they use his power to alter the future and control their destinies? Or will they reject it – and allow tomorrow to unfold without interference. Be there as the table is set for the comic book fans will be talking about for years to come in CIVIL WAR II #0 – coming this May!
Plus – head to your local comic shop on Free Comic Book Day for an exciting prologue to Civil War II by Brian Michael Bendis & Jim Cheung. Then, pick up CIVIL WAR II #1 by Brian Michael Bendis, David Marquez and Justin Ponsor – on sale June 1st!
What I thought
When Civil War II started, on Free Comic Book Day, it left War Machine and She-Hulk in critical condition. Issue 0, however, opened with them in great health. This made it feel like it happened BEFORE the prior issue. It actually goes as far as to give us a look at when Ulysses (the Inhuman who saw Thanos coming, in the FCBD issue) BECAME an Inhuman.
Anyway, the story goes back-and-forth with the stories of those three and Captain Marvel. It's really cut-and-dry, to be honest. She-Hulk's part involves her defending Jester (a former villain) in court and getting into an argument with Maria Hill about Jester. War Machine's part had the president offering him the position of Secretary of Defense, in hopes that it would one-day lead to Rhodey running for president. Captain Marvel spoke to Doc Samson in what felt like a therapy session that she didn't ask for. Ulysses went through his terrigenesis and came out of it seeing an apocalyptic future.
This apparently leads into the prior issue, so it feels oddly placed. While interesting, the issue left a lot to be desired and did NOT feel like a truly necessary part of the story. I hate to say it, but I'd have to give it two out of 5 stars.

Review written by Guest writer Lance Mealer