Power Man and Iron Fist (2016) #1 Review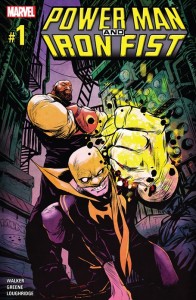 THE ORIGINAL HEROES FOR HIRE, BACK ON THE CLOCK!
We KNOW you've been waiting to see LUKE CAGE and DANNY RAND back together and back to STREET-STOMPING basics! POWER MAN and IRON FIST are tracking a mystery with all the ingredients of a classic Heroes-for-Hire tale. Expect old friends, hired goons, crime lords, weird magic, plenty of power, a flurry of fists and as much bromance as you can handle! It's Power Man and Iron Fist reunited, and writer DAVID WALKER and artist SANFORD GREENE are making it feel so GOOD!
What I thought
First off I must give props to the art team of Sanford Greene and Lee Loughridge straight up and down killed it on this books visuals. I picked it up more out of ritual than anything else. I saw the previews and hated the art. Now I realize that they are perfect. I remember having the same issues with Quantum and Woody and being proven wrong, I enjoy being wrong! This series is steeped in Luke Cage and Iron Fist history. We have a modern take on marvel's original dynamic duo. Things start off simple enough with Luke and Danny heading to prison to collect their former secretary, Jennie Royce who is just getting out of prison. After collecting her they are convinced by her to get a necklace from mobster supervillain Tombstone. They take her word for it despite Tombstone's protests. Jenny in secret however hands the necklace over to Black Mariah.
The humor in this book was way up there, not to mention it was full on bromance with Luke and Danny. It was in these moments that the book starts to sink its hooks deep inside your mind. Luke is the single friend while Luke is the one who has grown up and has a stable wife and family. It's a tried and true formula for a buddy flick but David Walker spins into something special with super powers added into the mix seamlessly. As far as first issues go this one is pretty solid.
We have the return of Black Mariah + the double cross of an old friend, a bromance to rival Quantum and Woody, great characterization which manages to work out modern and old marvel history in a shiny, sexy new package! We give Power Man and Iron Fist 4/5 stars