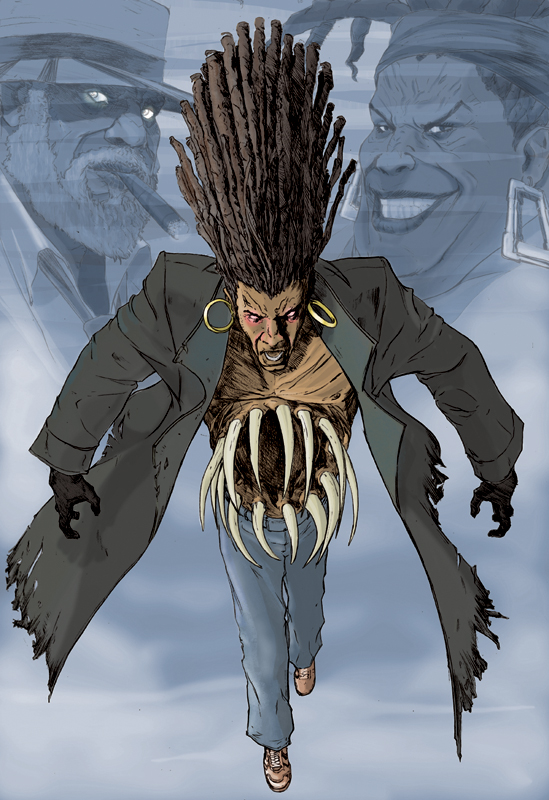 Publisher: Front Forty Press
Created by: John Jennings and Damien Duffy
First Appearance: The Hole- Consumer Culture, 2008
Legal Status: Unknown
Citizenship: American
Group Affiliation: None
Eye Color: Black                   Hair Color: Black
Weight: 160 lbs                      Height: 5'9
Relatives: Unknown
Skills and Abilities: Unknown
Powers: He possesses a voodoo powered hole in the center of his stomach which has an insatiable appetite. The Mouth can also split into smaller mouths through nuclear fission and move across his skins surface. This allows the "Hole" to protect its host from gunfire, physical assaults etc.
Biography
The Hole: Consumer Culture is a science fiction horror story about the buying and selling of race in America, the simultaneous worship and degradation of African Americans in popular culture, and the tearing down of physical and psychological boundaries. CEO Carla Bonte' wants voodoo to be a national religion—a hyperbolic "hyper voodoo" that uses an advanced technology marketed
through a multinational corporation. Papa Legba, voodoo spirit of the crossroads, stands in opposition to "hyper voodoo" and the consumer culture that propels it. Complete with biting postmodern satire, a visual hip-hop aesthetic, an annotated bibliography, and essays on the academic theory behind the story, The Hole stands at the crossroads of interdisciplinary education—fearlessly combining African American studies, media and comparative scholarship, horror, science fiction, comedy, and iconic teaching tools.