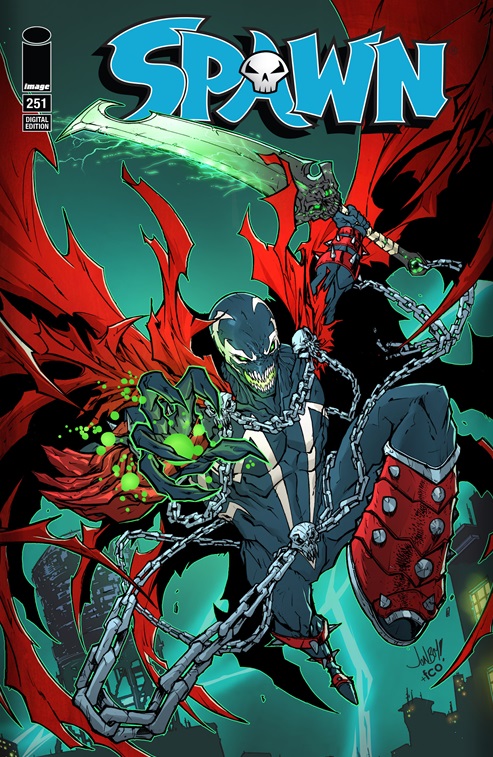 Following the re-introduction of Al Simmons in SPAWN: RESURRECTION #1, we dig deeper into Spawn's time away, the mystery of the word "CHAOS," and Birch, the veteran warrior who is clearly more than he seems. As the city devolves around him, Spawn is an unlikely beacon of hope in the darkness.
Summary
Al Simmons is back on Earth to find out who was responsible for the death of his wife Wanda Fitzgerald. During his investigations he realizes that he's being tracked by a mysterious man with a dog eerily similar to the one "God" was impersonating in Spawn Resurrection. Al roughs him up as he reveals more about where in Hell Wanda and his son are located. A few demons disguised as police officers attack and Spawn makes short work of them. Back at a hotel room
"Mike" reveals that he sacrificed everything to come to Earth and aid Simmons in his battle against "Belial", the new big bad.
What I thought
Mike is a messenger, a human working with humans on behalf of "God". Mystery Who is that new punk styled "Clown" tracking Al? Jonboy's art was also spot on from start to finish and really made the entire thing more digestible. He handles the transitions from human to demon in the story quite well and I enjoyed his rendition of the demons from hell. The actions scenes rocked and for some reason the sequencing of each art panel also popped out at me. What unknown powers does the Sword hold? We will just have to wait and see….
Overall this is a great jumping on point for new readers because it's so accessible and straightforward. This is also the time for fans like me who grew up on Al Simmons to return to the book which has created so many waves across so many mediums from his creation in the 90's until now. Spawn for all intents and purposes is back! We give this issue 4/5 star