Wolverine and the X-men #8 Review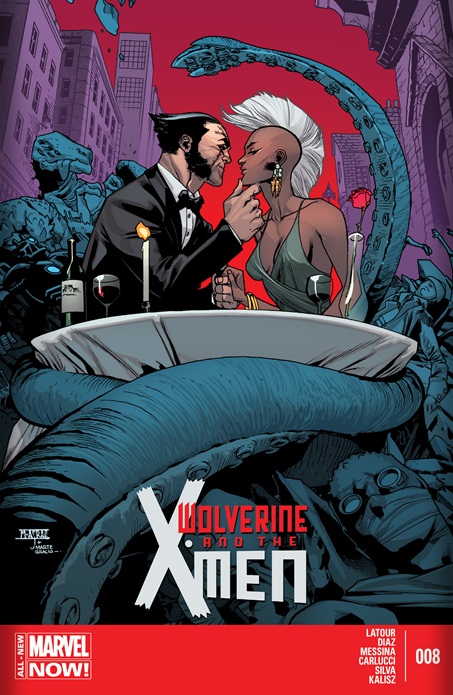 What's it like to be a rich, famous, teenage mutant? Just ask Quentin Quire!
Logan and storm go on a long overdue date!
And when the headmasters are away, villains come out to play.
Summary
Wolverine's healing factor has ceased working and with time running out he takes Storm to "the World" where times moves differently than the real world. They spend a year together building a kingdom, being lovers, warriors and revolutionaries. At the end of their year they are closer and they leave a new school in their wake- the James Howlett School of the World.
What I thought
This was a surprisingly enjoyable read.  It's rather strange that I loved having Black Panther and Storm together but also have a soft spot for Storm and Wolvie together. This issue captured the two being lovers, warriors and generally playing off each other really well. They have always had this natural chemistry and daresay Jason Latour has delivered one of my favourite Wolvie and Storm tales of the past year. The art meanwhile started out well with Paco Diaz but becomes ugly and totally uneven by the  time David Messina and Gaetano Carlucci take over the rest of the book.
Overall
I truly enjoyed Wolverine and the X-men #8 though the art was uneven and lacked polish. 3/5