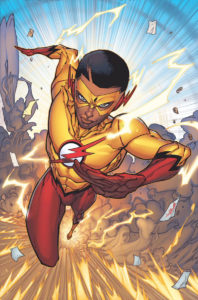 Real Name: Wallace Rudolph West
Alias: Kid Flash
Publisher: DC Comics
Created by: Robert Venditti, Van Jensen and Ron Frenz
1st appearance: The Flash Annual #3, 2014
Nationality: American
Team Affiliations: Unknown
Legal Status: Unknown
Height: 5'7                    Weight: 130 lbs
Eyes: Blue                        Hair: Black
Relatives: Iris West(Aunt), Rudolph 'Rudy' West (Uncle), Unnamed Mother (Status Unknown), Wallace "Wally" West/Flash (Cousin), Daniel West/Reverse Flash (Father)
Skills and Abilities: Unknown
Powers:  Wally can move as superhuman speeds.
Biography
Wallace Rudolph West is the son of a white father Daniel 'Danny' West and an unnamed black mother in the new 52 DC Comics continuity. When he was just a baby his father abandoned him and his mother. During the crime Syndicate's invasion of Earth his mother went missing. He first meets Barry Allen after he spray painted the Flash symbol found on a wall. Handed over to the police by Barry he was later picked up by his aunt Iris West who told Barry that Wally had looked up to Daniel West even after he became the reverse Flash [The Flash Annual #3, 2014].
 Future
In an alternate timeline he dies in an accident with his Aunt Iris West. She is crippled in the accident. This event causes a radical shift in the approach and temperament of Barry Allen now wearing a blue version of his traditionally red costume. His death causes his older Barry Allen to travel back in time to kill the current Barry Allen [The Flash Annual #3, 2014].
Future's End
In another timeline the Flash from 20 years in the future is able to prevent Wally's death by killing Daniel West and crippling his future self. The crippled Barry of his time realizes that Wally has been imbued with Speed Powers and as a result has him promise to stop his future self. He trains for years  to travel back in time to defeat the future Flash [The Flash: Future's End #1].
Facts: By making Wally West black and since the character will become the kid Flash he will be DC Comics first black male flash but third black flash after XS of the legion of superheroes and Danica from the Batman beyond future.