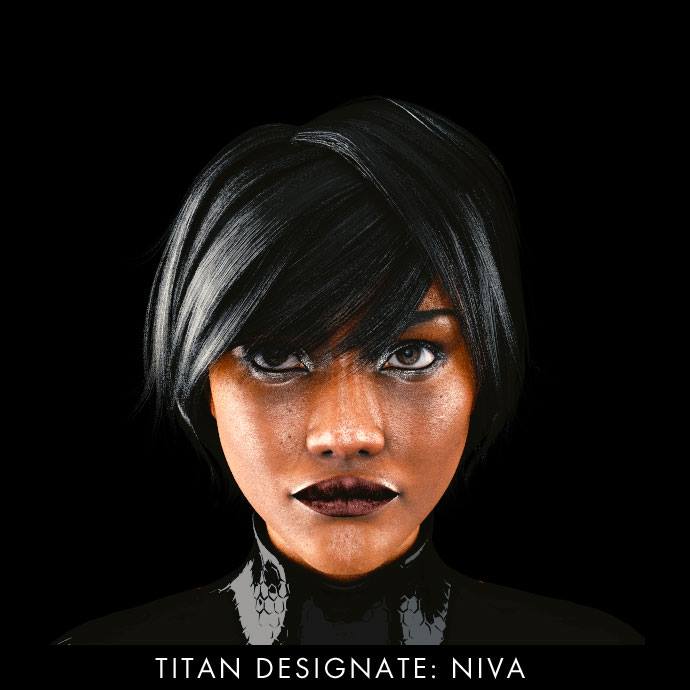 Created by: John Garrett
1st appearance: Titans|Divinity #1
Nationality: Black
Aliases: none
Team Affiliations: Titan Guard
Legal Status: Officer of the Titan Guard.
Height:  5′ 8"      Weight:   155lbs
Eyes:  Brown       Hair: Black
Relatives: None
Skills and abilities: Niva's most well-known skill is her ability to aggravate and disorient enemies (and friends) with her near-constant stream of wry (usually off-topic) commentary.
Powers: Like all Titans, Niva is empowered by a complex formula known as the "Divinity Formula". The formula allows Humans to restructure matter on an atomic level, and to create and manipulate all forms of energy. Titans also possess telepathic abilities, great physical strength and near invulnerability. Each Titan is paired with a lifeform native to Titan-Space, called "Nano-Life". The Nano-Life are trillions and trillions of sub-atomic creatures, that collectively make up one distinct personality. Each Nano-Life has a basic intelligence similar to a very smart dog, but also has an intrinsic understanding of the physical world that allows their Human host to better utilize their advanced matter manipulation powers.
Biography: Niva was always popular as a regular Human, and couldn't wait until the mandatory 22 years of her regular Human life were over so she could finally become a Titan. Easily bored, the power of the Divinity Formula gave her access to the untold wonders of the galaxy…which she quickly grew bored with. Niva spends her time seeking out threats to Humanity and destroying them, although she will take time to have a little fun, first. At times this can be off-putting to certain Titans, although they are usually won over by her warmth. This warmth is never seen by anyone alien to Humankind, however. Niva has little patience for aliens who attempt to circumvent the laws of Titan-Space.

N.B: Biography submitted by creator John Garrett.