Ultimate Comics Spider-Man #25 Review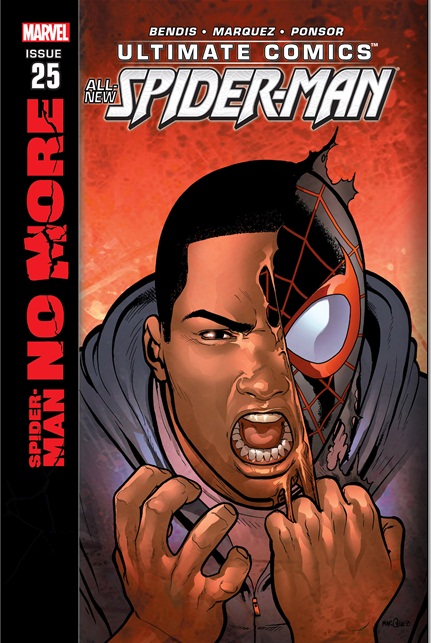 MILES MORALES CELEBRATES HIS 25th ISSUE!!!
Will the surprising appearance of new heroes CLOAK AND DAGGER be enough to bring miles back into the super hero fold?
More young heroes debut! Who will they be?
The Good
Cover- Quite poetic, Miles Morales rips off his face to reveal his Spider-man costume underneath.
Characterization- I really enjoyed the many talks that occurred this issue from Aunt May and Gwen's opening moments to Ganke's exchange with Miles and the closing sequence with Spider-Woman all these character moments really hit all the right notes!
New Dynamic Duo- The Ultimate Cloak and Dagger have more light shone on their origins as the latest super soldiers.
Action- It was brief but satisfying as Cloak and Dagger took on one of the mutated scientist.
Art- David Marquez continues to stun with his art work especially in the emotional scenes. The eyes and body language really sell this issue.
Black Hero- Miles Morales is here along with the Ultimate version of Cloak.
Development-Is it just me or has Miles Finally developed organic web shooters?
The Bad
No complaints
The Ugly
I very enjoyable character driven story which puts Miles back in the Spider-man digs 4/5