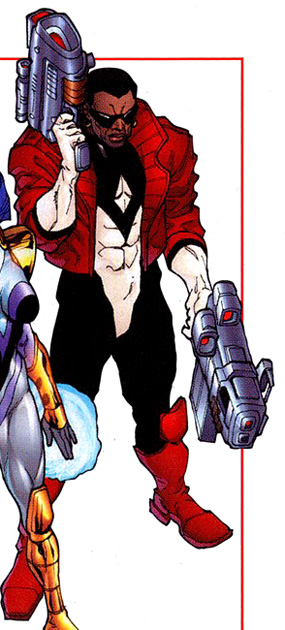 Created by: ?
First Appearance: Genetix #1, 1993
Real Name: Clifton Joseph
Nationality: Jamaican
Team Affiliations: Genetix
Legal Status: Jamaican national with no criminal record
Weight: 190 lbs    Height: 5'9
Eyes: Brown            Hair: Black
Known Relatives: Unknown
Skills and abilities: Skilled in the use of firearms
Powers: Has the power of dimensional teleportation and travel. He can store and infinite number of weapons in an inter-dimensional "storage hole" which alleviates the problem of waking around with his weapons.
Biography
Abducted from Jamaica and taken to Mys-Tech after being identified as having natural abilities compatible with the program. Along with other teenagers they were genetically enhanced and mutated into superhuman beings. They have partnered with Wolverine and done battle with Alpha Flight before disappearing into obscurity.