Truth: Red, White, and Black #5 Review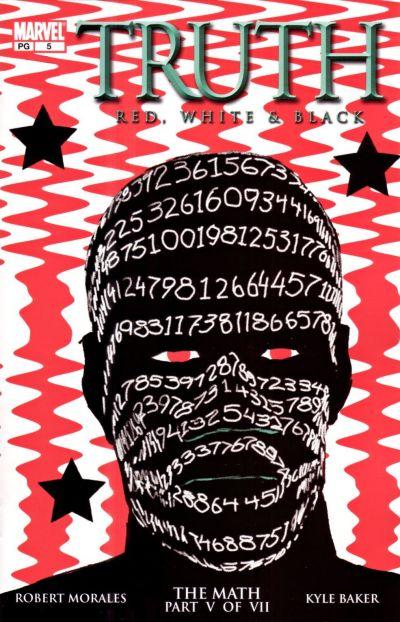 Summary
The mission is underway. Faith Bradley describes what her husband has become, or better yet; what the Army has made him. His mission; destroy as much of the camp as he can. He is given specific targets and is set loose. He realizes the mission is a suicide mission, but with his family in the forefront of his thoughts, he carries out his orders with the ferocity and efficiency of the Super Soldier he has been turned into. Some of the sights are very disturbing to Isaiah, who uses this to fuel his aggression. Isaiah is cornered in a gas chamber, and is gassed along with some of the captives. Although the he survives this, he is captured. Faith is shown in her kitchen, relating this story to none other than Captain America.
The Good
Story– Armed with the original shield emblazoned with the "double V" symbol, Isaiah mobilizes. He is a one-man wrecking crew, planting explosives around the camp and blowing up as much as he can. He was warned that he may see things that would be unsettling, but he had no idea the depravity which was carried out at the camp. Isaiah sees evidence of experiments that have been conducted on the prisoners, and finds this disturbing, but was brought to tears at the sight of the bodies of children who were experimented on. The captives in the gas chamber at first attack Isaiah, thinking he is one of their executioners, but once the gas starts, they stop in their attack and hold hands, drawing upon each others strength as they face their end.
Art- see issue #1 review
Historical Significance- For information on the Holocaust the writer consulted among other reference materials, "The Holocaust Encyclopedia" and "The War against the Jews".
Cover- The image of Isaiah covered in numbers, signifying the numbering done to the concentration camp prisoners, is a somber reminder of one of the most villainous episodes in human history.
The Bad
No complaints
The Ugly
Isaiah's actions will have far reaching repercussions and will put him directly on a path to confront one of the people considered the greatest villain of his generation.  5/5