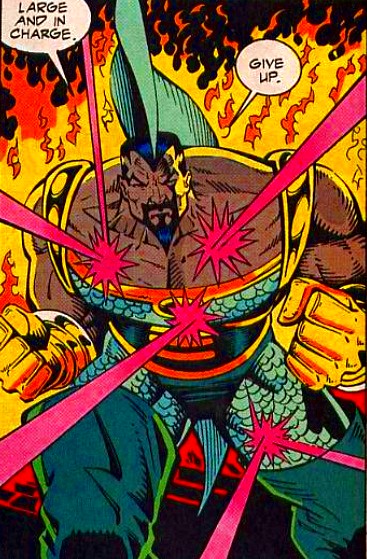 Created by:  Gregory Wright and Tom Grindberg
1st appearance: Silver Sable and the Wild Pack #11, 1993
Nationality: Unknown
Team Affiliations: The Garrison, Wild Pack and Intruders
Legal Status: Unknown
Height:  6'3             Weight: 250 lbs.
Eyes: Brown             Hair: Black
Relatives: Unknown
Skills and abilities: Capable hand to hand combatant and keen scientific mind.
Powers: Fin possesses an unspecified degree of Superhuman strength, Sonar and echolocation. He also has a retractable razor sharp spine that run from the top of his head to his back.
Biography
Fin's past is a mystery before he came to the attention of Silver Sable and her wildpack. He  would later join the "Intruders" under the leadership of Battlestar along with Sandman, Man-Eater, Paladin and later Lightbright. They operated separate from Silver Sable's Wild Pack. They continued to operate even after Wild Pack disbanded and after "Civil War" they were assimilated into the Avengers Initiative as superhero team for Vermont called the "Garrison".