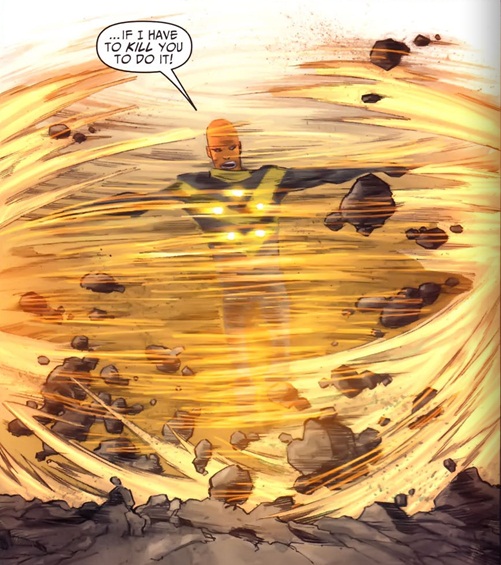 Real Name: Roscoe Hynes

Publisher: DC Comics
Created by: Brian Buccellato and Francis Manapul.
1st appearance: The Flash #7, 2012
Nationality: American
Team Affiliations: Tuskegee Airmen
Legal Status: Unknown
Height: Unknown              Weight: Unknown
Eyes: Brown                       Hair: Black
Relatives: Unknown
Skills and abilities: Skilled pilot
Powers: Exposure to the speed force allows him to spin his body at an accelerated rate often enveloping his body in a whirlwind which he can use to fly, hurl objects or envelop others.

Biography
A Tuskegee airman from the US army he piloted an experimental aircraft which disappeared right as his team entered the war. He spent the next seventy years driven almost completely mad from loneliness and isolation. When Barry Allen got his powers he saw it as a way to finally escape his prison. However he could not escape and caused many disasters which pulled others into the speed force. When he finally met Flash he explained his connecting to the speed force, a form of symbiosis. He wanted to return to his original time but Flash feared what effect that would have on the timeline and so pulled him into the present.