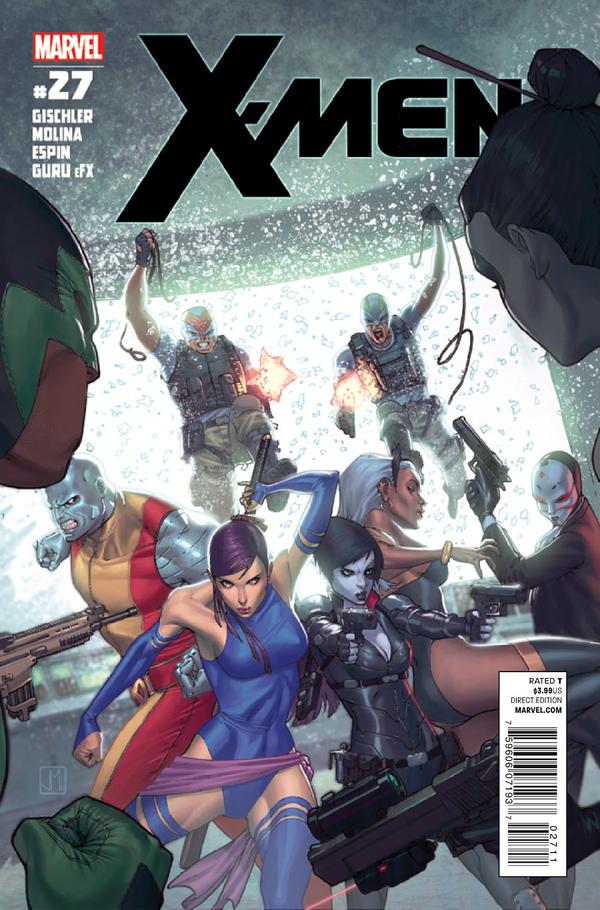 Summary
Jubillee and the lord Deathstrike square off while the rest of the X-men and Forsaken realize all of their opponents are a distraction and head back to Raizo and Storm. Jubillee manages to defeat her opponent and overcome the urge to feed on him. In the end she decides to stay with the Forsaken having made peace with her urges and realizing she has much to learn from them. Storm realizing she's found a semblance of peace leaves her in their care.
Elsewhere those responsible the "siren sect" lament that despite defeat they were successful in framing the "Klaw sect" and are a step closer to vampires ruling the world.
The Good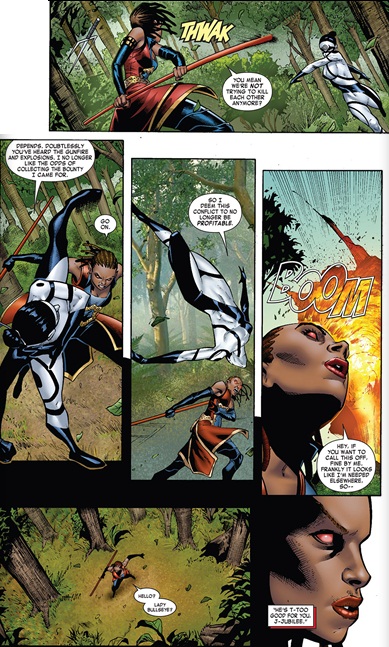 Art-Jorge Molina and Salva Espin turn in some great pencils that Guru EFX's dynamic contrasting colors bring everything to life. The artists also capture the unfolding action in a seamless way for maximum enjoyment.
Action- Jubillee vs Masked assassin= maximum enjoyment. I never expected to like this issue, Jubilee front and center while Storm (again) is relegated to background but thanks to Jorge and Salva's mastery of choreographing a fight scene this issue may end up being my favorite issue of this volume of X-men.  I'm looking at you Avengers vs X-men this is how you make a fight and add layers of depth to it without cheap thrills and shock value.
Cover- Storm's team: Psylocke, Domino, Colossus and Storm surrounded by the encroaching assassins in glorious green tinted colors that's very eye catching.
Characterization- This issue Jubilee takes center stage as she squares off with the mysterious masked assassin.  It highlights Jubilee's character growth in a major way and love it or hate it her vampirism has strengthened her character over the past few years more than all the years of Generation-x combined. Here is a confident, over the mall rat cliché, serious, battle hardened woman who kicks copious amounts of ass and takes names.
Villain-Lord Deathstrike the masked mystery sword fighter rocks! He minds me of lady bullseye when she made her debut, silent, deadly and very effective.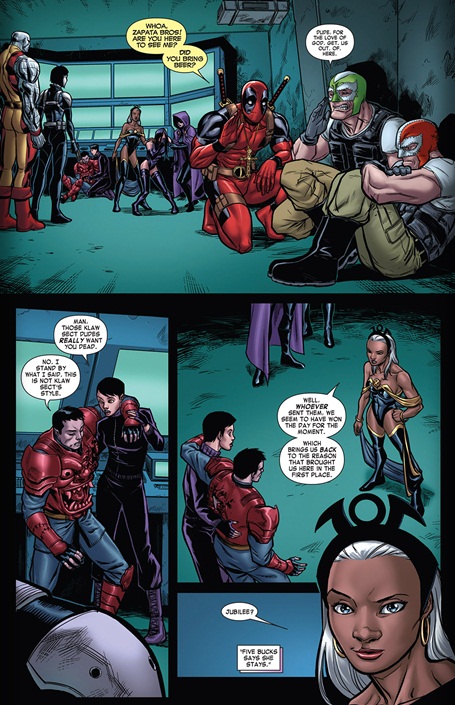 Story- The overarching Vampire tale woven into this book is pretty cool. Marvel's restructuring of the vampire mythology is cool to me on so many levels. The division of the vampire kingdom into various "sects" with their own individual rules and politics. Quick recap:  Dracula was beheaded by his son Xarus who united all sects into one unified nation which was defeated by the X-men after they resurrected Dracula though not before Xarus made Jubillee into a vampire. Lee has been struggling with her lust for blood ever since and life as a creature of the night. Here Lee finally has her bloodlust under control has a new love interest and is firmly planted into a group of vampires who could literally change the marvel universe vampires status quo once again. It also doesn't hurt that Storm who has a long history with Dracula is in charge of this team which will no doubt clash with the Vampire nation once more. Good times!
Black Superheroes- Nighteyes of the forgiven and Storm of the X-men appear in this issue.
The Bad
Tired of vampires? stay away!
Can't get over jubilee being a vampire? Stay Away!
Tired of Storm being relegated to background? Stay Away!
The Ugly
Great art, great action, great characterization and so much potential 4.5/5