Ultimate Comics Spider-Man #8 Review
Summary
In Paris Gwen and Aunt May learn about the new spider-man. In Brooklyn Miles uncle Prowler drops by for a visit knowing Miles is the new spider-man he suggests he knows what Miles should do with his new abilities. Luckily security escorts him off the premises.
Elsewhere the new scorpion arrives on the scene demanding to know where Prowler is. At the police station Miles dad learns all he can about the new spider-man from the kangaroo.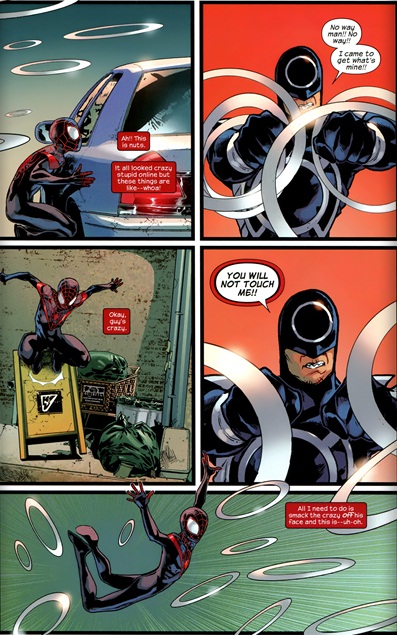 The Good
Cover-Cool depiction of the new scorpion strangling Miles with his "stinger", the other cover where Aunt May and Gwen Stacey are reflected in his eyes is pretty nice too though unrelated to the story within.
Art-Sara Pichelli your back so I'm back. I didn't review the last two issues because she was gone and things looked…passable at best. Now she's back and this book is saved! (Cough) Best artist of 2012 (cough)
Family- I'm digging the new spider-man's family. Uncle Aaron/Prowler the criminal in particular is a cool cat who will add family drama and lots of dangerous situations where Miles will have to save him. He's also very dangerous; he killed tinkerer last issue without batting an eye after learning the original spider-man's origin.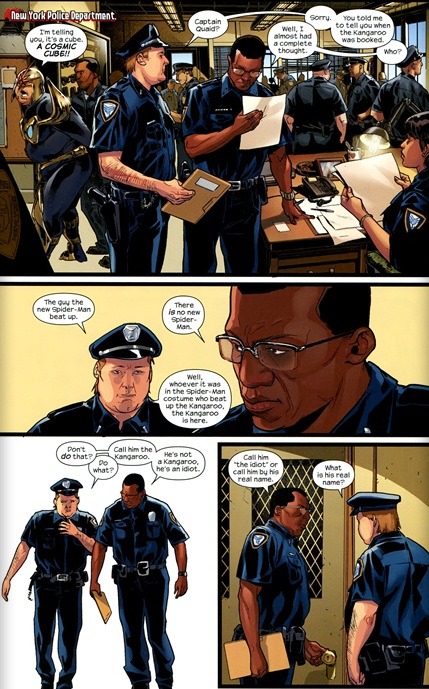 Hilarious- Ringer….seriously? LOL
New Scorpion- I like the design of this new scorpion. A steroid biker meets hulk…..interesting. I also dig his stinger, a hook attached to a chain.
Action- Blood? Check! Acrobatics? Check! All in all the action was adequate.
The Bad
Repetition panels- one page with four panels where Miles appears motionless as the ay passes. Hate repetition panels they always come off as lazy. Sorry Pichelli bad form all around!
The Ugly
3/5