Lafayette Reynolds (Character)
Publisher: IDW Publishing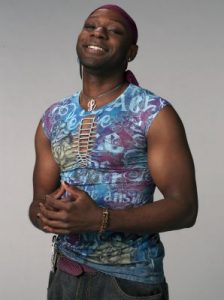 Created by:  David Tishchman and Mariah Huehner
1st appearance: True Blood #1- part 1, July 2010
Nationality: African American
Team Affiliations: None
Legal Status: Unknown
Height: 5'9                   Weight: 160 lbs
Eye color: Brown             Hair color: Black
Relatives: Mae Hellerman (Great-Great Grand-Mother), Winnie (Great-grandmother), Lettie Mae Daniels (Aunt), Tara Thornton (Cousin), Ruby Jean Reynolds  (Mother), Uncle Cyrus (Uncle),
Skills and abilities: Skilled hand-to-hand fighter.
Powers: Lafayette is a medium that possesses a magical ability that allows him to make contact with the ghosts, or spirits, of Bon Temps deceased loved ones. After a relationship with the powerful brujo Jesus Velasquez, Lafayette has become possessed by a Mexican demon, giving him even more power.
Biography
Lafayette Reynolds is a short order cook, a medium, and a major character on the HBO original series True Blood. Played by actor Nelsan Ellis on the HB series True Blood, Lafayette debuts on the episode "Strange Love" in the series' first season, and has remained a prominent character through the series' second, third, fourth, fifth, sixth, and seventh seasons.
A short order cook at his local hometown restaurant Bellefleur's Bar and Grill, a popular local hangout formerly known as Merlotte's Bar and Grill, Lafayette spends most of his time located in his hometown of Bon Temps, Louisiana.