[amazon_link asins='1682151670,1939346673,1939346827′ template='ProductCarousel' store='Black panther' marketplace='US' link_id='810f5268-f408-11e7-9280-050600f6c943′]
Created By: Matt Kindt and Chrisscross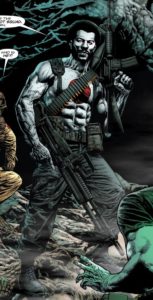 First Appearance: Bloodshot #0, 2013
Nationality: African American
Team Affiliation: Bloodshot Squad
Legal Status: Unknown
Weight: 230 lbs                        Height: 6'1
Eyes: Red formerly brown        Hair: Black
Relatives: Unknown
Skills and Abilities:  He has extensive training from the military in armed and unarmed combat.
Powers: As a Bloodshot he has enhanced strength, endurance and healing.
Biography
Dell Palmer was a young African American with the desire for equality. His father had the opposite personality. Due to this they were never close. As a teen he would often get into fights much to his father's dismay. One day after getting into a particularly bad fight and icing it with a steak his father suggested he flee to Canada. This made him very angry as he wanted a chance to prove that he was just as much an American and human being as a white man.
When he was the right age to enrol he joined the army and rose to the rank of Sergeant. His entire squad was killed and he was left limbless and near death. It was at this time he was taken as a candidate for the Bloodshot programme.
He was the first of the self repairing generation of Bloodshot [Bloodshot #0, 2013].
As a weapon he was used to do unspeakable things until he was retired and placed in stasis. Decades later he was sent the island where along with other Bloodshots was used to train Deathmate. He was the first other Bloodshot found by the modern day version while on the island. He also let him know that the island was the place where Deathmate kills them daily [Bloodshot Reborn #14, 2015].
He was a part of the Bloodshot Team who later escaped the island [Bloodshot Reborn #15-18, 2016]. He was also present when a while city were made Bloodshots. He had his nanites upgraded so he could assume a normal appearance. He and the Bloodshot Squad saved baby Bloodshot from death [Bloodshot salvation #2]. He took a day to visit his ailing father and finally make peace.