Women's History Month Tribute: Jackie Ormes; creator of Torchy Brown, Candy and Patty-Jo 'n' Ginger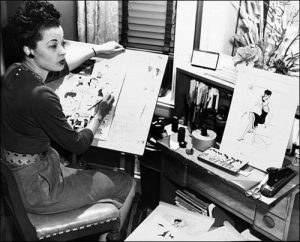 The month of March marks the celebration of Women's history and their many and ongoing contributions. These contributions represent a plethora of achievements in multiple areas, and are deserving of more than just one month to give them special recognition. We take this time highlight the achievements and contributions especially by Black women in the area of comics. We shine the spotlight today on the first African American woman to have a syndicated comic strip, as well as the creator of the first African American comic character; Jackie Ormes.
Ormes was born Zelda Mavin Jackson on August 1, 1911 to William Winfield Jackson and Mary Brown Jackson. Her father owned a printing company and movie theater, and was killed in an automobile accident in 1917. She and her sister lived with other family members briefly, but when their mother remarried, they relocated to a nearby suburb where they set up permanent residence. Ormes'; nicknamed "Jackie" in school for her last name;  path to journalism started while in high school where she handled the art duties for her school yearbook, and displayed the wit that would become her trademark. Her correspondence with the editor of the Pittsburgh Courier,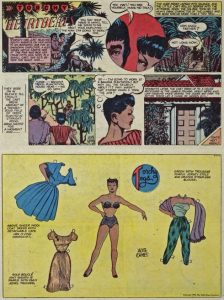 which was an African American newspaper that was published weekly on Saturdays, garnered her attention and led to a job with the paper as a reporter. Her first assignment for the paper was to cover a boxing match, which she aptly performed. She became a reporter and proofreader for the paper after high school, and in May of 1937 debuted her comic strip, Torchy Brown in "Dixie in Harlem". The cartoon told the story of a young woman from Mississippi who left home to experience adventure and become a famous singer up North at the Cotton Club. The comic strip made Ormes the first professional African American female newspaper cartoonist. The strip ran for one year in the Courier. She relocated to Chicago with her husband Earl Ormes, whom she married in 1931; a began taking classes at the School of the Art Institute of Chicago. She penned a society column for The Chicago Defender in the mid-1940s for a brief period of time and in 1945  debuted her next big work, Candy, depicting a wisecracking, sultry domestic worker. The single panel cartoon ran for four months.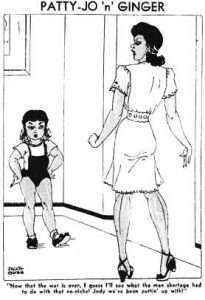 She returned to the Courier in September of 1945 and their she debuted her Patty-Jo n Ginger comic  which would become her longest running cartoon, running for 11 years. The comic feature little sister Jo, who would provide political commentary with big sister Ginger standing silently by. The comic inspired Ormes to create a Patty Jo doll. Ormes also brought back her character Torchy Brown, this time in a series titled Torchy in Heartbeats, which started in 1950 and ran for 4 years. The comic strip turned into an 8 page insert, and included a Torchy Brown paper doll and paper fashion accessories.
Ormes had become known for her using her comic strips to provide commentary on political and social issues of the day. She was able to mix her excellent sense of style and fashion along with her mastery of drawing the female form along with the things she observed in real life that not only affected the black community, but society at large. With Patty Jo n Ginger, she was able to cover a wide array of topics and all the while maintain the class and humor her comic strips had come to symbolize. At the end of her Patty Jo n Ginger run she turned her attention to becoming more involved in community activism through her fashion shows. She eventually garnered enough attention to warrant an FBI investigation into her.
Jackie Ormes is celebrated as a trailblazer for not only African American women, but for all women. Her mastery of the feminine form and outstanding sense of style, as well as her politically charged commentary, make her a leader among her peers.