Publisher: Fantasy Art Comics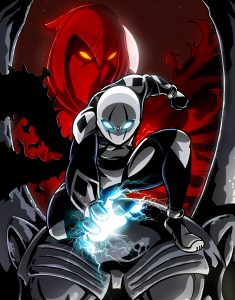 Created by: Raymond Sanders
1st appearance: Fierce #1 (vol. 1) 2008
Nationality: Black
Team Affiliations: None
Legal Status: Student
Height: 5'8                   Weight: 150
Eye color: Brown              Hair color: Black
Relatives: Joyce Adams (Mother)
Skills and abilities: Enhanced reflexes, Super strength, Healing ability (slightly faster than a normal human).
Powers: Fierce powers are energy based and he can regulate specific amounts of energy to certain powers of his body. Channeling more energy to his hands allows him to throw faster and stronger punches, channeling energy to his feet allows him to run faster and jump higher.
Biography: Aaron Adams is a high school freshman at Hugo High School. During the summer before school started Aaron discovered that he had super powers, but he didn't tell anyone because he didn't want to be considered a freak. He likes to use his new powers when no one's around, but he still doesn't know the full extent of them. Aaron lives a city that has been protected by the Crimson Stalker for the past 20 plus years. With the villains getting bigger, stronger, smarter, and deadlier the Crimson Stalker realizes that he's just getting older. He knows that his days of crime fighting are coming to an end, lucky for him he meets Aaron begins to train him to be the city's next protector.