Publisher: ?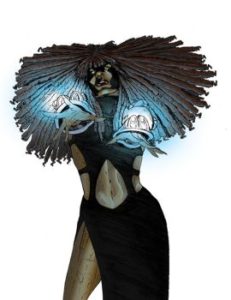 Created by: N. Steven Harris
1st appearance: The Fringe Ashcan, 2006
Nationality: African American
Team Affiliations: The Fringe
Legal Status: Unknown
Weight: 150 lbs    Height: 5'8
Eyes: Brown            Hair: Black
Relatives: Unknown
Skills and abilities:  Unknown
Powers:  She appears to have enhanced strength and resistance to injury. She can also fire energy from her hands.
Biography
A young Woman  who works as a journalist for a large corporation in a country where a foreign power has taken control for the past three decades. The corporation is part of this foreign power. However, she is secretly working for the resistance movement, known as the Fringe. to capture her and turn her into a brainwashed superbeing intent on destroying the Fringe!