Publisher: ?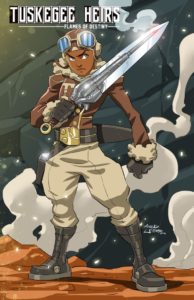 Created by: Greg Burnham and Marcus Williams
1st appearance: Tuskeegee Heirs #1, 2016
Nationality: African American
Team Affiliations: Tuskeegee Heirs
Legal Status: Unknown
Weight: 140 lbs    Height: 5'7
Eyes: Brown            Hair: Black
Relatives: Unknown
Skills and abilities: Naturally gifted pilot.
Powers: None
Equipment: Uses a mechanized sword in Combat
Biography
One of the most naturally gifted pilots on the team, Able was born to fly and with the extended hands-on training from Col. Mars, he may quickly become the most skilled pilot on the planet.