[amazon_link asins='B074JWSFJS,B076X1WHR8,B01M0X9MFQ' template='ProductCarousel' store='Independent Comics' marketplace='US' link_id='0d0cac59-e273-11e7-91e1-bbc6d42ed62d']
Created by: Alex Kurtzman, Roberto Orci, Jeff Pinkner and James Vanderbilt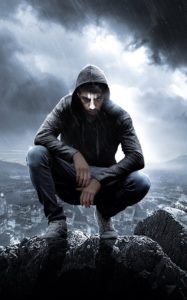 1st appearance: Cleverman Episode 1 (June 1, 2016)
Portrayed by: Hunter Page-Lochard
Nationality: Australian
Team Affiliations: None
Legal Status: Unknown
Height: 5'7                                                                                  Weight: 150 lbs
Eyes: Originally brown, now one is light blue                       Hair: Black
Relatives: Unknown
Skills and Abilities: Proficient electrical engineer.
Powers: As the new Cleverman he is the conduit between the present and the Dreaming
Healing factor allowing him to recover from injuries at an accelerated rate. He once had his finger ripped off and by holding the finger together after it had been separated it healed within minutes. He also cut his forearm open and had it heal in seconds.
Tactile based Telepathy and Empathy- He is a able through touch to tell what has happened in someones immediate past and understand their feelings and emotions.
Visions: Through touch he can also see into a persons past and future.
Summoning: The clever man is able to summon creatures and spirits from the dreaming into the corporeal world.
Reanimation: One Cleverman was shown bringing the recently deceased back to life.
Biography
He was subjected to ridicule and hatred as a child. He is Waruu's half-brother, who owns a pub named 'The Couch' with friends Blair and Ash. He keeps his business afloat by giving up Hairypeople to the CA for rewards by tricking them with a false safe house setup. His actions inadvertently lead to the death of Jyra, causing doubt within himself.
Koen then becomes the titular, yet initially reluctant Cleverman, after the passing of his uncle, who was the previous Cleverman. Koen gains abilities such as healing, the left eye of the Cleverman, the ability to see visions when touching others or from the dreaming, along with the war club 'The Nulla Nulla'. He has a toxic relationship with his half brother Waruu, as they share the same father, but different mothers, with Koen's being labeled the 'white whore' due to an affair between their father and his mother. He was abused by Waruu for most of his childhood 'til he ran away from the Zone and was found by Blair, where they become friends. He has a secret affair with Blair's girlfriend, Ash, which causes a rift in their friendship later, when McIntyre kills her trying to capture Kora and Koen. Over the course of the series he begins to gradually accept his role as Cleverman, finding redemption in his previous actions – even fighting Waruu to prove his worth during a fist fight when Waruu could not accept him as the Cleverman. At the end of season 1 Koen returns to the Zone, whereafter Waruu unsuccessfully tries to kill the spirit 'namorrodor'. Koen defeats it with the Nulla Nulla and beings to lead the Hairypeople against the advancing CA.