[amazon_link asins='0292726740,1578062829′ template='ProductCarousel' store='Black panther' marketplace='US' link_id='a6724983-e076-11e7-80ee-3363572cb240′]
Publisher: ?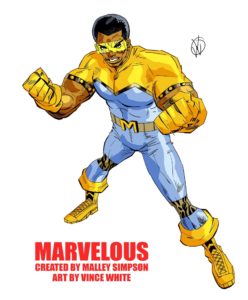 Created by:  Malley Simpson
1st appearance:  They Call Him: Marvelous #1
Nationality:  American with Brazilian and Samoan Decest
Team Affiliations:  Elite Warriors
Legal Status:  US Citizen with no known criminal record
Height:  6'3                    Weight:  280 lbs.
Eye color:  Brown            Hair color:  Black
Relatives:  Jacqueline "Jackie" Garfield (Paternal Grandmother), "Chicken" George Garfield (Paternal Grandfather; deceased), Chief Peter Wade Manu (Maternal Grandfather), Michael Garfield, Sr. (father, deceased), Rosemary Garfield (Mother, deceased), Melvin Garfield (Oldest Brother), Glenda Garfield (Older Sister), Joseph Garfield (Nephew), Malone Garfield (Older Brother), Michael Garfield, Jr. (Younger Brother), Marvin Garfield (Paternal Uncle, deceased), Kim Garfield (Paternal Aunt), Kevin Garfield (Paternal Uncle), Clarence "Oxen" Hudson (First Cousin), Solosolo "Fatu" Manu (Maternal Uncle), Bishop Raymond Brown (Future Father-in-law), Marge Brown (Future Mother-in-law, deceased), Rev. Dr. Reuel Brown (Future Brother-in-law), Naomi Brown (Significant Other) and Headbanger (Dog)
Skills and abilities:  Army Ranger Trainings and Mastery of Various forms of Martial Arts
Powers:  Genetically Enhanced Superhuman Strength, Endurance, Speed, Stamina, Senses, Agility, Reflexes, and Healing Factor, Replicating Capabilities, Nigh Invulnerable Skin, and Energy Based Capabilities.
Biography
Malcolm J. Garfield grew up from a dysfunctional but hardworking family with his paternal grandmother Jackie Garfield, his maternal grandfather Samoan Chieftain Peter W. Manu, his sister Glenda, and his brothers Melvin, Malone, and Michael Jr. in the North Hollywood/Compton area of California.  His parents Michael, Sr. and Rosemary Garfield died in a deadly plane crash when he was 8 years old and his uncle Marvin (his father's older brother) died in the line of police duty at the hand of the Heavy Gear Mafia when he was 17 years old.  During his middle and high school years Malcolm was a brilliant scholar, an incredible super athlete, and a excellently trained combatant.  After high school Malcolm join the United States Army Rangers and stay there for 8 years.  After being honorary discharged from active military service Malcolm quickly join the New Francisco Police's Swat Team in honor of his deceased father and uncle respectively. While leading a swat raid at the Bayview Chemical Plant, Malcolm was fatally shot off the catwalk by The Crimson Mask's top lieutenant Classy Clyde during a deadly shootout and fell back first into a vat of a unknown chemical call the Miracle Analeptic (the Powerverse version of the Super Soldier Serum aka Operation: Rebirth) and was left for dead. But, at the same time Professor Power's (Will Power's Father) matter density wave hits him as he has his accident causing a unique conveyance of events. When Malcolm jump out of the vat a few minutes later he slowly realizing that the chemical in the vat he fell in and the sudden change of the trains density allowed it to fuse with his body. Making him nearly bullet proof, gaining him heightened agility, reflexes and senses, able to absorb and manipulate the energy around him, possessed the size, speed and strength of 30 men, and he can remember everything he's seem and can do it with perfection. After defeating the Heavy Gears Mafia's personal militia and forced The Crimson Mask's enforcers Jim-Bob, Mr. Hudson, and Classy Clyde to make a tactical retreat Malcolm decided to take his partner's suggestion and become a superhero fighting evil, villainy, and corruption as the genetically enhanced superhero known as… Marvelous: The Man of Tungsten.