Created by: Greg Burnham and Marcus Williams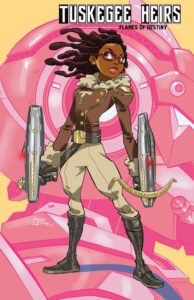 1st appearance: Tuskegee Heirs #1, 2016
Nationality: African American
Team Affiliations: Tuskegee Heirs
Legal Status: Unknown
Weight: 120 lbs    Height: 5'5
Eyes: Brown            Hair: Black
Relatives: Unknown
Skills and abilities: Naturally gifted intellect.
Powers: None
Equipment: Uses two mechanized crossbows in Combat.
Biography
The brains of the outfit and team geographical/topographical expert that keeps the team up to date and informed on all mission details. An otherwise sweet and timid soul, Genesis comes alive in combat and is a truly fearsome force to be reckoned with.