Publisher: ?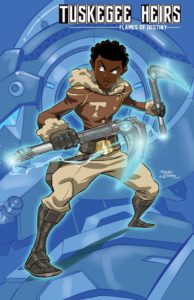 Created by: Greg Burnham and Marcus Williams
1st appearance: Tuskegee Heirs #1, 2016
Nationality: African American
Team Affiliations: Tuskegee Heirs
Legal Status: Unknown
Weight: 135 lbs    Height: 5'6
Eyes: Brown            Hair: Black
Relatives: Unknown
Skills and abilities: Naturally gifted mechanic.
Powers: None
Equipment: Uses two mechanized Sickle in Combat.
Biography
The field mechanic on the team and talented tech specialist, Omar is a balanced pilot with strong will and a laid back demeanor. A hoarder of information, he proclaims himself a historian should the need for knowledge present itself.