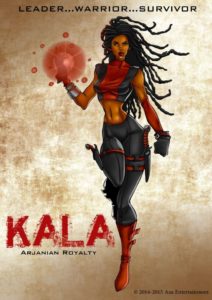 Created by: Aza Comics/Aza Entertainment/Jazmin Truesdale
1st appearance: The Keeper's: Origins
Nationality: American (Arjanian and Themetian—-a direct descendant of the first woman)
Aliases: Kala Banks, Kala of Arjana
Team Affiliations: The Keepers (Askari)
Legal Status: American Citizen with no criminal record
Height: 5' 7"     Weight: 140
Eyes:Brown       Hair: Dark Brown
Relatives: Thema (Mother), Queen of the planet Arjana; Ngozi (Grandmother), Former Queen of the planet Arjana
Skills and abilities: Gifted in languages. Due to evolution, Arjanians have sharper senses (hearing, touch, smell, sight, and taste)
Powers: power to manipulate force and energy which allow her to fly, overpower her opponents in strength and speed, and throw energy balls.
Weapons: 2 Arjanian Tribal Daggers that belonged to her mother
Biography:
Raised by her two aunts in the Gullah Sea Islands of SC, Kala is a fierce hero from the warrior planet of Arjana in Realm 1 (the oldest planet of the oldest realm in the universe also known as the Pangeatic Africus Realm). She is trained in various fighting styles and weaponry; Educated in language and the history of the Aza universe and of the different cultures of Aza within each realm. Her mother, Thema, lives on her home planet and is the Queen of Arjana.