Marvel's Runaways TV Series revealed!
Thanks to Comicbookresources we have confirmation that the often talked about but never actualized Runaways Tv Series which once had Joss Whedon's interest has now been green for the streaming platform Hulu. The poster below shows the full cast and is a near identical reproduction of the Runaways Vol.1 Cover!  (I'm geeking out over here)
Runaways will be based on the Marvel Comics series created by Brian K. Vaughan and Adrian Alphonsa, the new TV series centers on a set of kids who learn their parents are actually members of the super-villain group "the Pride". The children, some of whom inherited their parents' abilities, steal their weapons and resources, and set out to take down the Pride.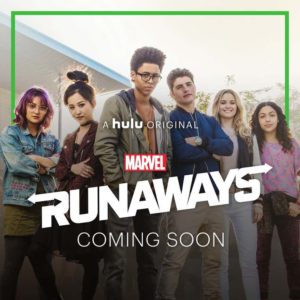 Runaways stars Rhenzy Feliz as Alex Wilder and Allegra Acosta as Molly Hernandez, with James Marsters and Ever Carradine as Victor and Janet Stein, Annie Wersching and Kip Pardue as Leslie and Frank Dean, Kevin Weisman and Brigid Brannagh as Dale and Stacey Yorkes, and Brittany Ishibashi and James Yaegashi as Tina and Robert Minoru.
What do you think?
Sound off Below!
More as it Breaks!
Source: CBR.com