Invincible Iron Man (2017) #1 Review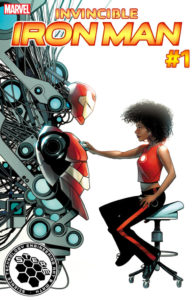 Invincible Iron Man (2017) #1 Review
From the violent streets of Chicago, a new armored hero rises! Clad in her very own Iron Man armor, Riri Williams is ready to show the Marvel Universe what she can do as the self-made hero of tomorrow. But is she ready for all the problems that come with stepping into Iron Man's jet boots? Where's a genius billionaire playboy philanthropist when you need one?
Summary
In the past Riri Williams/Ironheart recalls the day her parents were told that she was a super genius at age five and that is the reason that she has been acting out, she's bored. Five years later she had already started working on her armor. Her mother tried to keep her grounded and normal. Around this time she met Natalie. Two years ago Natalee and her stepdad are killed during a drive by when the father tries to save Riri .
In the present Riri fights Animax a mutant supervillain. She had difficulty at first because her Armor lacks a proper AI system. She manages to win but gets shot at by the Police. Back at home a package is delivered to her…the consciousness of the now deceased Tony Stark/Iron Man.
What I thought
The Bendis formula is pretty well known by now and this is more of the good stuff. Bendis uses splash pages and flashbacks to great effect. Stefano Caselli's art is as gorgeous as ever and fit the tone nicely. The expressiveness of Riri 's face in particular must be commended.The action scenes flow well and honestly this is Bendis at his usual best. If you like his technique then you will love this opening issue if not this issue will not necessarily win you over
I give this issue 4/5 Stars