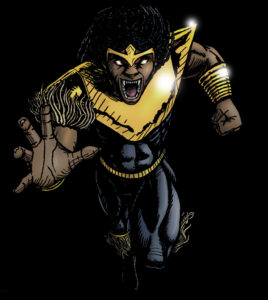 Character Name: Skyler Brade – The Lionman
Publisher: POW! Comics
Created by: Rick Hannah
1st appearance: The Lionman #1
 Nationality: United States citizen
Team Affiliations: n/a
Legal Status: Minor
Height: Skyler – 5'8" Lionman – 6'2"                        Weight: Skyler – 145 lbs. Lionman – 250 lbs.
Eye color: Skyler – Brown. Lionman – Gold             Hair color: Black
Relatives: Mother – Alexandria "Alex" Brade, Sister – Elizabeth "Beth" Brade, Uncle – James Brade, Grandma – Cleopatra "Cleo" Degrate
Skills and abilities: Skyler is skilled in both math and artistic activities. An avid reader, he has a phenomenal memory for both history and geography. After his transformation as the Lionman, he will find he has developed certain psychic abilities even when not transformed.
Powers: The Lionman possesses enhanced senses, strength (enabling him to lift 8 tons), and superhuman speed and endurance. He also has a magical resistance to injury and a very rapid recovery from wounds. He will be capable of greater feats when he becomes an adult.
 Biography
Skyler Brade is an ordinary 15-year old kid born and raised in Anacostia, D.C., trying to begin his sophomore year in school and avoid trouble. He was born with a club foot and this lack of athletic ability, together with the seriousness with which he takes his studies, opens him to being ridiculed and bullied.
Unknown to Skyler, his Zulu ancestors, the amadlozi, have plans for him to take up an ancient magic talisman and become the latest incarnation of…the Lionman! A hero is needed and Skyler has the blood of kings. Together with the enigmatic British agent Sir Michael Baker, his brother-in-arms Ras Singh, South African diplomat John Bhekifa, and many others, Skyler is about to be plunged into a world of supernatural horror, political intrigue and a war against the oldest cult in the world.
And he will be granted powers and abilities far beyond his dreams…