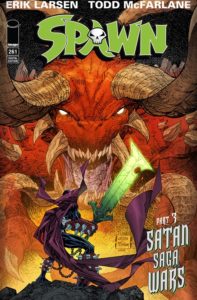 The race to escape Hell is thwarted by Satan himself. Will Al and Wanda get their happily ever after?
What I thought
This cover is so much better than the one before. It features Erik Larsen's trademark style , the curling horns in particular are sexy as f**k.  Spawn stands before Satan with his heaven gifted sword ready to carve out his own piece of hell. I do dig it!
Action heavy and all out war erupts between Spawn and Satan. Wanda is the stereotypical damsel in distress it's exhausting but what the hell can you do. It's her thing. The plot moved along slowly with the unborn child entering the fray as a bartering chip. The story fades to white as Spawn seemingly unleashes his powers.
Al Simmons was never an angel; he was a literal angel but not a good person.  That was always clear from day one. As he loses control while facing the hordes of Hell I was taken back to how he loved Wanda, yes, but it never stopped him from abusing her. He has always had an impulse problem, always been a Pawn in someone else game and even here he is being used as an instrument against hell. To what end? We still are not sure but it's a running gag in Spawn that Al is never quite as in control as he seems.
I give this issue 3/5 stars for Erik Larsen's outstanding art and an average story.