Nighthawk (2016) #1 Review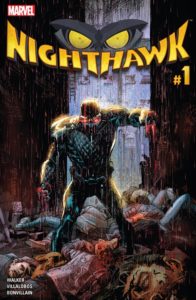 Straight from the pages of Squadron Supreme comes the most brutal super hero in the Marvel Universe in a hard-hitting new ongoing series! Marvel is pleased to present your first look inside NIGHTHAWK #1 – the new ongoing series from fan-favorite creators David Walker (Power Man And Iron Fist) and Ramon Villalobos (E is for Extinction). He is Chicago's lethal vigilante – dispensing swift and vicious justice to those who truly deserve it. But when the city's shadiest power brokers begin turning up dead – each murdered more gruesomely than the last – Nighthawk must ask himself the hard questions. Does this killer deserve to be caught? What does he want? More importantly, what does the killer have to do with Nighthawk? To answer those questions – Nighthawk might have to look in the mirror first. The mystery begins here! Don't miss one minute of the bone-crunching action when NIGHTHAWK #1 comes to comic shops and digital devices this May!
The Good
Cover-That is one sexy cover! Nighthawk is bloody bathed in rain surrounded by the defeated in an alley. It just jumps right out at you on the stands.
Logo- Equally worth mentioning is that divine Yellow and orange logo embossed at the top of this book. Those owl eyes right above tie the whole thing together is a delicious bow.
Art-Ramon Villalobos art is pretty good for the task at hand and it manages to illustrate everything quite well.
Tone– The first Nighthawk series had a very dark and sombre mood, this series seems to continue that trend while also maintaining the issue of racism and race related crimes in America. There was even a nod to the Trayvon shooting.
Redesign- Tilda Johnson is Nightwing's tech support and she looks nothing like she once did. Who is Tilda? Oh a Villain by the Name of Nightshade who was attracted to an alternate reality Black Panther and has been at odds with Captain America, Power man and Iron fist.  So she has a slick new hairdo, and is unrecognizable from the women she was before. Strange enough I think she is even cooler as she is now; no longer a d-list villain with small time aspirations.
Action– Broken bones and blood are features of Nighthawk's brutal style of fighting crime. This issue was full to the brim and overflowing with it.
Past- In the original series we never really got into the mind of our Anti-hero. This one though due to sleep deprivation Nighthawk is having flashes of his past and damn near madness it seems which only fuels his long seated anger issues.
The Bad
The violence means its not for everyone.
The art is also an acquired taste.
The Ugly
Overall I thought this was a good first issue with loads of potential. 3/5 stars