Spawn #255,#256, #257 and #258 Review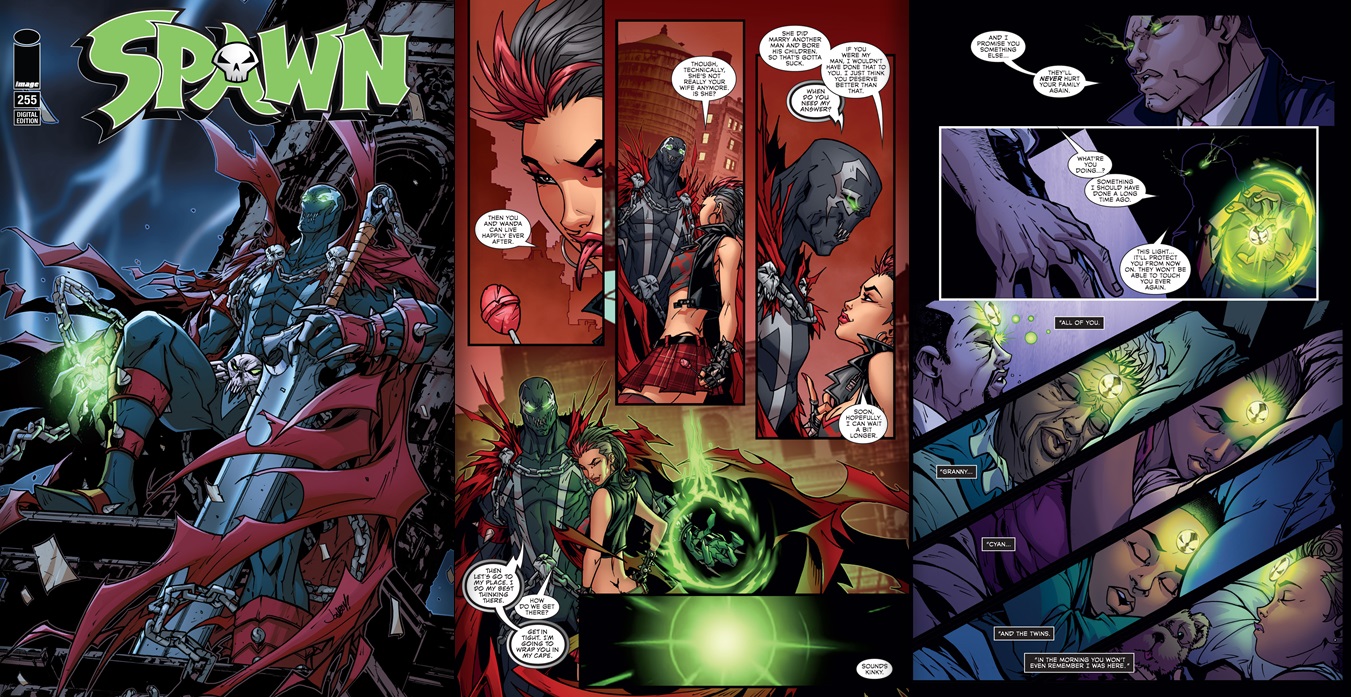 Spawn continues to discover his new powers using his big-ass colossal sword to defeat his enemies.
What I thought
Jonboy's art feels right at home in this book. The cover is sleek and sexy and the interior pages simply spring to life. Laura Martin must be commended as her colors are dynamic, bold and deep. In this issue the shifter demon continues to offer Spawn/Al Simmons everything she assumes he wants, a chance to be human and a have a family with his now dead wife Wanda. He refuses and instead maims and sends her back to tell with a warning for Satan that Spawn is coming for him and nothing in creation will stop him. He attends Wanda's funeral and then visits Terry in the night to question him about where Wanda was headed when she was killed and also to use his powers to provide protection for him and Wanda's family: Cyan, Granny and the twins.
My first thought was what the hell is going on. The last time I saw the Fitzgerald twins they were wiped from existence, no one remembered them and were they not the vessels for god and the devil? Is that why Satan is up and about? He escaped the pocket dimension Spawn put him in? I am so confused! Al Simmons is typically stoic and as a result he doesn't resonate with the reader, you can't relate to him. Their were cool moments yes but there is so much to confuse even long time fans I can't truly recommend this except for collectors, nostalgia of plain old love for the character. I give this issue 2.5/5 stars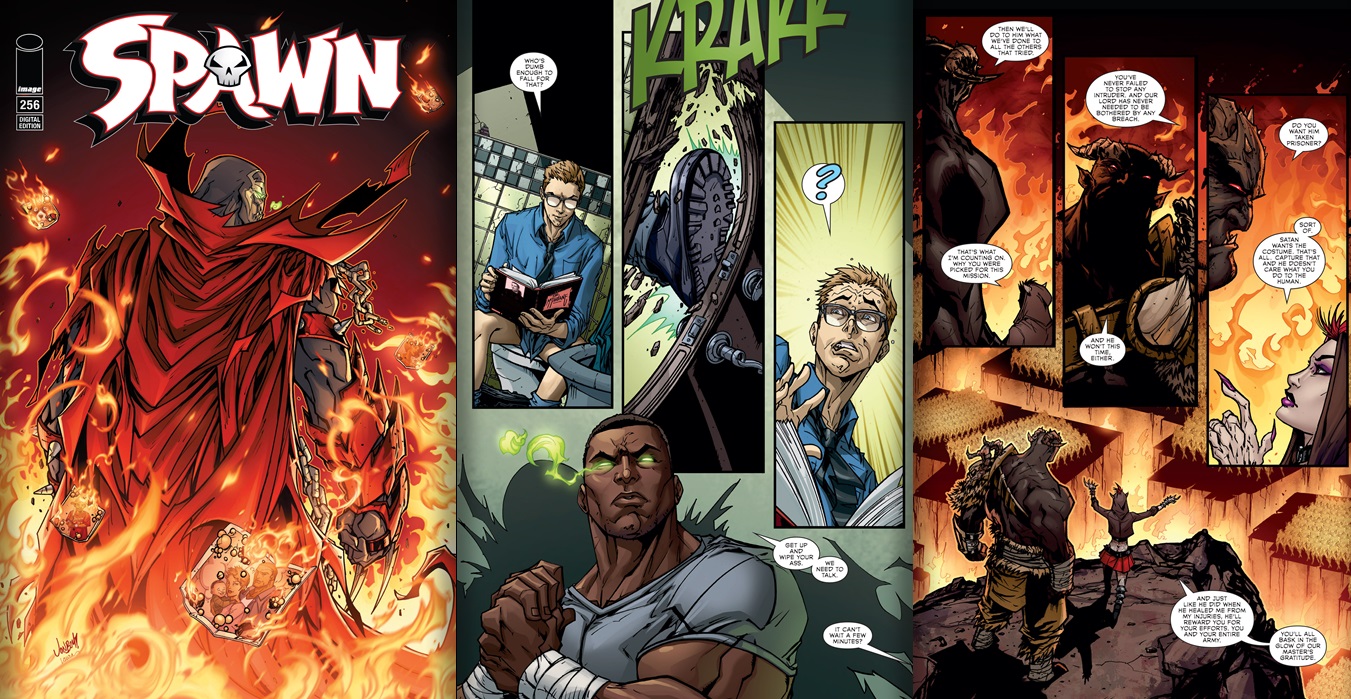 Spawn makes a decision that will change the game for everyone.
What I thought
In this issue Hell's armies prepare for the coming of Spawn. Al meanwhile tracks down the Clown and his friend for Heaven to use to go to the "Tunnel" where Wanda's soul is located and being tortured. Clown agrees under the condition that Spawn gives him enough power to shapeshift once more, but unknown to Spawn he already can. We also get an update on Jim Downing who has awoken from his slumber after saving the world.
The art was uneven because Jonboy clearly could not finish the issue on time and thus the fill in artist Szymon Kudranski was called in the change in style is simply jarring honestly. This was a more straight forward issue with less confusion on my part, which was good. Again though I thought it was an average book so I give it 2.5/5 stars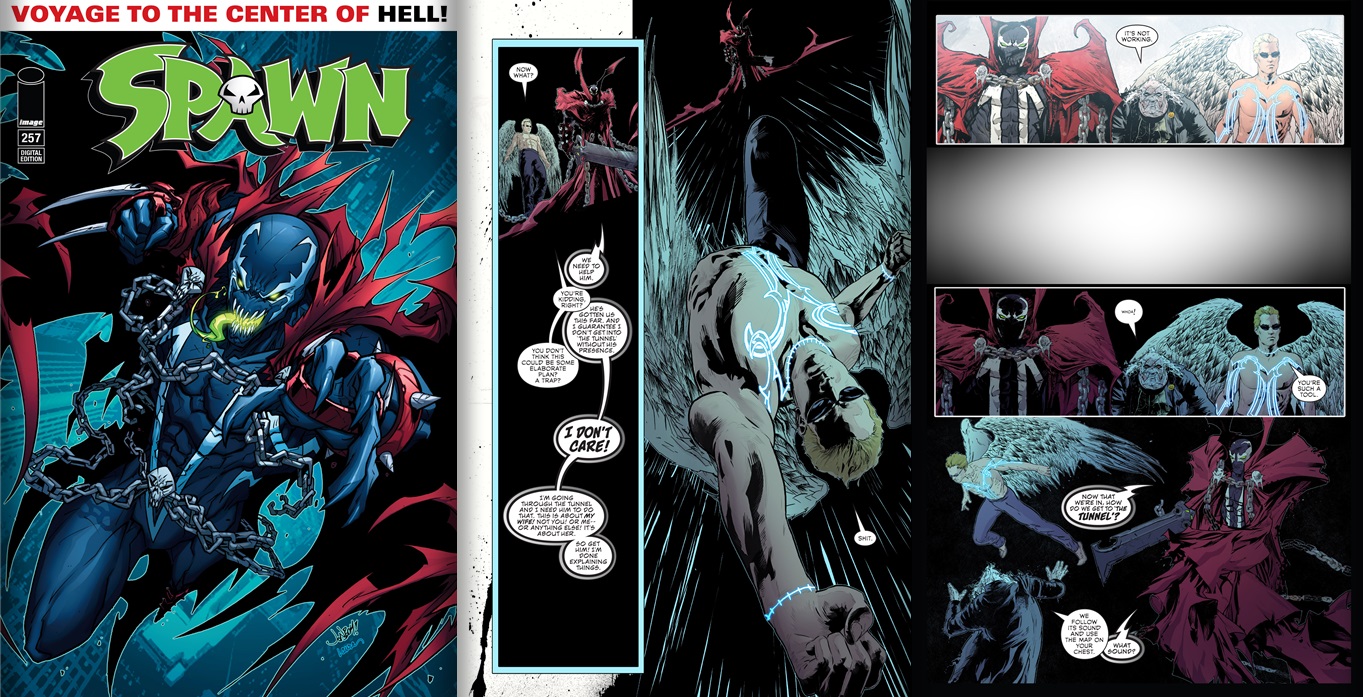 Spawn's enemies think they have the upper hand, but what they don't know is that they are playing right into his hands.
What I thought
This issue Spawn a demon and an angel go through the Tunnel while managing to work together yet not sing kumbaya. It was just dull honestly. Average on most levels though the art and especially the cover were awesome! The neo joke was amusing though. 2.5/5 stars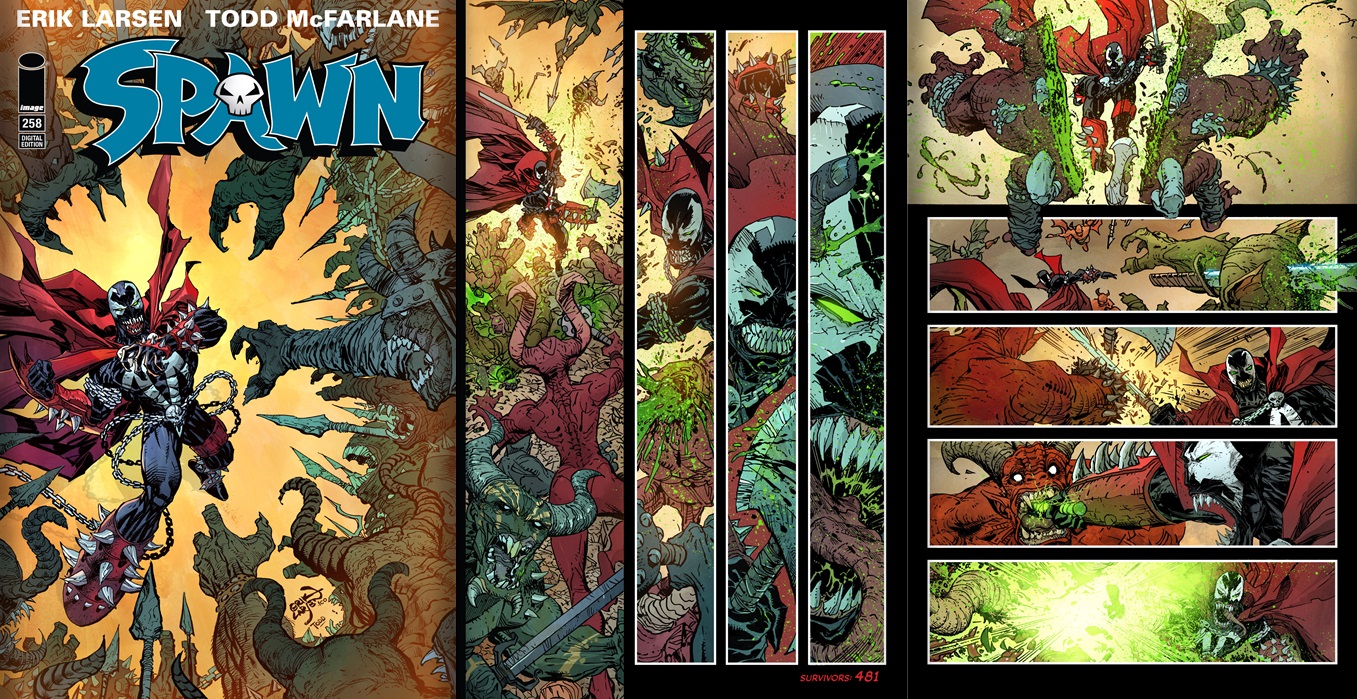 Spawn returns to the one place he never thought he would see again…HELL.
What I thought
Erik Larsen and Todd McFarlane double penetrate the art duties to the point that the reader can't help but pleasure themselves because it is exciting, thrilling, juicy and full to the brim and exploding with Epicness!
It's a mostly silent issue but its arguably the best issue since Al came back. It captures the essence of the character while coupled with Larsen's art that truly captured the savagery and flow of battle. This was just awesome! At the end when Spawn speaks you can't help but get chills because the set up and execution were on point! We give this one 4/5 stars because while not perfect its the best dawn spawn we have read since Spawn resurrection!